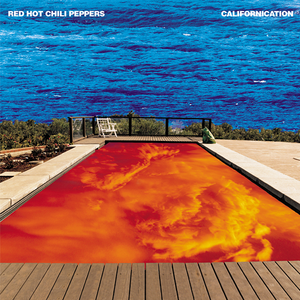 Californication is the seventh studio album by American alternative rock band Red Hot Chili Peppers, released on June 8, 1999 on Warner Bros. Records. Produced by Rick Rubin, Californication marked the return of John Frusciante, who had previously appeared on Mother's Milk and Blood Sugar Sex Magik, to replace Dave Navarro as the band's guitarist. Frusciante's return was credited with changing the band's sound altogether. The record was a notable shift in style from what was produced with Navarro. The album's subject material incorporated various sexual innuendos commonly associated with the band, and introduced themes of lust, death, contemplations of
Read Full Bio
Californication is the seventh studio album by American alternative rock band Red Hot Chili Peppers, released on June 8, 1999 on Warner Bros. Records. Produced by Rick Rubin, Californication marked the return of John Frusciante, who had previously appeared on Mother's Milk and Blood Sugar Sex Magik, to replace Dave Navarro as the band's guitarist. Frusciante's return was credited with changing the band's sound altogether. The record was a notable shift in style from what was produced with Navarro. The album's subject material incorporated various sexual innuendos commonly associated with the band, and introduced themes of lust, death, contemplations of suicide, and drugs.

Californication produced several hits for the band, including "Otherside", "Californication" and the Grammy Award-winning "Scar Tissue". Californication peaked at number three on the U.S. Billboard 200. It is the Chili Peppers' most commercially successful album to date, selling more than fifteen million copies worldwide; a revitalization in comparison to their previous album, One Hot Minute. The record marked a change in style for the band; Rolling Stone's Greg Tate noted that "while all previous Chili Peppers projects have been highly spirited, Californication dares to be spiritual and epiphanic."

After their 1995 release One Hot Minute, the Red Hot Chili Peppers released Californication, which saw them reclaiming their extreme notoriety among the alternative rock fraternity. John Frusciante returned to the band in 1998 after leaving in 1992, replacing Dave Navarro as the guitarist. Navarro, of Jane's Addiction, gave the band a heavy, psychadelic sound; Frusciante brought back with him the melodic 'punk funk' that had helped bring the band to stardom.

Californication gained positive critical acceptance in contrast to its less popular predecessor, One Hot Minute, and was a greater success worldwide. Rolling Stone credited Kiedis for his drastically improved vocals: " vocal cords have apparently been down to some crossroads and over the rehab, and returned with heretofore unheard-of range, body, pitch, soulfulness, and melodic sensibility." Songs such as "Otherside" and "Porcelain" were called "Pumpkins-esque", while the album as a whole was "epiphanal" and that the "RHCP furthermuckers are now moving toward funk's real Holy Grail: that salty marriage of esoteric mythology and insatiable musicality that salvages souls, binds communities and heals the sick." Other critics credited the album's success to the return of Frusciante. Allmusic's Greg Prato said that the "obvious reason for rebirth is the reappearance of guitarist John Frusciante", considering him to be the "quintessential RHCP guitarist". The album as a whole was "a bona fide Chili Peppers classic". Entertainment Weekly also credits Frusciante with transforming the band's sound into a "more relaxed, less grating, and, in their own way, more introspective album than ever before". Mark Woodlief of Ray Gun commented that "'This Velvet Glove' strikes an intricate balance between a lush acoustic guitar foundation and anthemic rock," Woodlief continued "the disco intro to 'Parallel Universe' gives way to a scorching Western giddy-up motif in the chorus, and Frusciante's Hendrix-like excursions at the song's close."

While many critics found the band's new sound refreshing, NME criticized the Chili Peppers for rarely utilizing their trademark funk sound, asking: "Can we have our brain-dead, half-dressed funk-hop rock animals back now, please? All this false empathy is starting to make my removed rib tingle." Pitchfork, while considering the album a triumph over One Hot Minute, felt Californication lacked the funk that was ever-present in Blood Sugar Sex Magik. It went on to scrutinize some lyrics for being overly sexual, but also considered Frusciante to be "the best big-time American rock guitarist going right now."

The album received criticism for what Tim Anderson of The Guardian called "excessive compression and distortion" in the process of digital mastering. Stylus Magazine labeled it as one of the victims of the loudness war and commented that it suffered from digital clipping so much that "even non-audiophile consumers complained about it". An unmastered bootleg has been circulated around the internet.
Loudness War Waveform of bootlegged "unmastered" version (top) versus waveform of original CD release (bottom), scaled to show relative volume levels.

Over the years, Californication has maintained its popularity. "Scar Tissue" won a Grammy award for best rock song in 2000. The album was ranked number 399 on Rolling Stone magazine's 2003 list of the 500 greatest albums of all time and, in 2006, the Chili Peppers recorded a five-set playlist for AOL Sessions that included "Scar Tissue" and "Californication". The album produced many staple hits for the Chili Peppers; five of the sixteen songs on their Greatest Hits album were taken from Californication.


Immediately following the release of Californication, the band embarked on a world tour to support the record, beginning in the United States. To culminate the US leg of their tour, the Chili Peppers were asked to close Woodstock '99, which became infamous for the violence it resulted in. The band was informed minutes before arriving that the crowds and bonfires in the fields had gone out of control. When the Chili Peppers performed a tribute to Jimi Hendrix's song "Fire" to finish their set as a favour to Hendrix's sister, the disruption escalated into violence when several women who had been crowd surfing and moshing were raped and nearby property was looted and destroyed. Kiedis felt that "It was clear that this situation had nothing to do with Woodstock anymore. It wasn't symbolic of peace and love, but of greed and cashing in... We woke up to papers and radio stations vilifying us for playing 'Fire'."

To kick off the band's European tour, the band staged a free show in Moscow's Red Square, on August 14, 1999, to a crowd of over 200,000. Kiedis recalled the situation: "Red Square was so filled with wall-to-wall Russians that we needed a police escort to get near the stage." Following the European leg, the group did a show in New York City, at the Windows on the World, for KROQ radio contest-winners, and then at the Big Day Out festival in Australia following several Japanese tour dates. Flea, however, began to feel the repercussions of touring causing the band to set up concerts that were less strenuous, and consequently less financially rewarding, for them. These shows would finish the remainder of the Californication tour. As one of the last shows before the release of their next album By the Way, the Chili Peppers played Rock in Rio 3.
Genre not found
Artist not found
Album not found
Search results not found
Song not found
All around the world, we could make time
Rompin' and a-stompin' 'cause I'm in my prime
Born in the North and sworn to entertain ya
'Cause I'm down for the state of Pennsylvania
I try not to whine, but I must warn ya
'Bout the motherfuckin' girls from California
Alabama baby said, "Hallelujah"
Good God, girl, I wish I knew ya
I know, I know for sure
That life is beautiful around the world
Well, I know, I know it's you
You say, "Hello" and then I say, "I do"
Come back, baby, 'cause I'd like to say
I've been around the world, back from Bombay
Fox hole love, pie in your face
Livin' in and out of a big fat suitcase
Bonafide ride, step aside, Mike Johnson
Yes, I could, in the woods of Wisconsin
Wake up the cake, it's a lake, she's kissin' me
As they do when they do in Sicily
I know, I know for sure
That life is beautiful around the world
Well, I know, I know it's you
You say, "Hello" and then I say, "I do"
Where you wanna go? Who you wanna be?
What you wanna do? Just come with me
Oh, I saw God and I saw the fountains
You and me, girl, sittin' in the Swiss mountains
Me, oh my, oh, me and Guy O
Freer than a bird 'cause we're rockin' Ohio
Around the world, I feel dutiful
Take a wife 'cause life is beautiful
I know, I know for sure
Ding, dang, dong, dong, ding, ding, dong, dong, ding, dang
Well, I know, I know it's you
Ding, dang, dong, dong, ding, ding, dong, dong, ding, dang
Mother Russia, do not suffer, I know you're bold enough
I've been around the world and I have seen your love
Well, I know, I know it's you
You say, "Hello" and then I say, "I do"
Lyrics © MoeBeToBlame
Written by: Michael Peter Balzary, John Anthony Frusciante, Anthony Kiedis, Chad Gaylord Smith

Lyrics Licensed & Provided by LyricFind
To comment on specific lyrics,
highlight them