Scar tissue that I wish you saw
Sarcastic mister know-it-all
Close your eyes and I'll kiss you, 'cause
With the birds I'll share
With the birds I'll share this lonely viewin'
With the birds I'll share this lonely viewin'
Push me up against the wall
Young Kentucky girl in a push-up bra
Fallin' all over myself
To lick your heart and taste your health 'cause
With the birds I'll share this lonely viewin'
With the birds I'll share this lonely viewin'
With the birds I'll share this lonely view
Blood loss in a bathroom stall
A southern girl with a scarlet drawl
I wave goodbye to ma and pa
'Cause with the birds I'll share
With the birds I'll share this lonely viewin'
With the birds I'll share this lonely viewin'
Soft spoken with a broken jaw
Step outside but not to brawl and
Autumn's sweet, we call it fall
I'll make it to the moon if I have to crawl and
With the birds I'll share this lonely viewin'
With the birds I'll share this lonely viewin'
With the birds I'll share this lonely view
Scar tissue that I wish you saw
Sarcastic mister know-it-all
Close your eyes and I'll kiss you, 'cause
With the birds I'll share
With the birds I'll share this lonely viewin'
With the birds I'll share this lonely viewin'
With the birds I'll share this lonely view
Lyrics © MoeBeToBlame, WORDS & MUSIC A DIV OF BIG DEAL MUSIC LLC
Written by: Michael Peter Balzary, John Anthony Frusciante, Anthony Kiedis, Chad Gaylord Smith

Lyrics Licensed & Provided by LyricFind
To comment on specific lyrics,
highlight them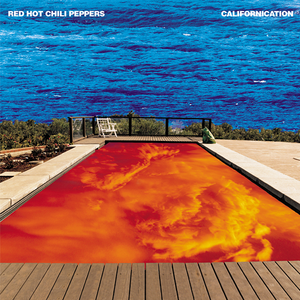 The first single from the album Californication. It was the first single to feature the return of guitarist John Frusciante, who left the band in 1992 after the release of their breakthrough album Blood Sugar Sex Magik. He returned to the band for the recording of Californication.

Spent 16 weeks on top of the Billboard Modern Rock chart and reached #9 on the Billboard Hot 100 chart. It also won the Grammy Award for Best Rock Song in 2000.
Genre not found
Artist not found
Album not found
Search results not found
Song not found