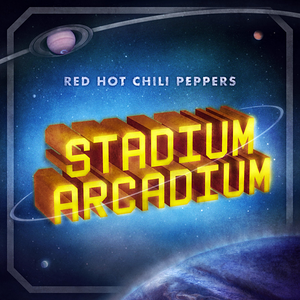 Stadium Arcadium is the ninth studio album by alternative rock band Red Hot Chili Peppers, released on May 9, 2006 via Warner Bros. Records. It sold 442,000 copies in the U.S. in the first week and debuted at number one on the Billboard 200. The album spawned five hit singles: "Dani California", "Snow ((Hey Oh))", "Desecration Smile", "Hump De Bump", and "Tell Me Baby". According to the band's frontman Anthony Kiedis, Stadium Arcadium was originally scheduled to be a trilogy of albums each released six months apart, but was eventually condensed into a double album. Stadium Arcadium was critically praised
Read Full Bio
Stadium Arcadium is the ninth studio album by alternative rock band Red Hot Chili Peppers, released on May 9, 2006 via Warner Bros. Records. It sold 442,000 copies in the U.S. in the first week and debuted at number one on the Billboard 200. The album spawned five hit singles: "Dani California", "Snow ((Hey Oh))", "Desecration Smile", "Hump De Bump", and "Tell Me Baby". According to the band's frontman Anthony Kiedis, Stadium Arcadium was originally scheduled to be a trilogy of albums each released six months apart, but was eventually condensed into a double album.

Stadium Arcadium was critically praised for integrating musical styles from several aspects of the band's career. The album gained the band seven Grammy Award nominations in 2007 including an award for Best Rock Album. It was the most nominations that the band had garnered in their 25-year career. Kiedis attributed the album's success to less abrasive dynamics within the band, saying that the band's "chemistry when it comes to writing is better than ever. There was always a struggle to dominate lyrically. But we are now confident enough in who we are, so everybody feels more comfortable contributing more and more valuable, quality stuff."

After the release of their previous album, By the Way, the Red Hot Chili Peppers embarked on a world tour, which lasted from July 2002 to a mid-June 2004 date at London's Hyde Park. The band later appeared at the 2004 Democratic National Convention and at Rock am Ring to tie up their tour in support of By the Way. The band then settled down to begin recording their next album in September 2004 with producer Rick Rubin, with whom they had recorded four albums previously.

The formation and recording of Stadium Arcadium took place at "The Mansion," the former home of Harry Houdini where the Chili Peppers had recorded their 1991 breakthrough Blood Sugar Sex Magik. Given the house's reputation for being "haunted," guitarist John Frusciante recalled that he felt "there were beings of higher intelligence controlling what I was doing, and I didn't know how to talk about it or explain it...it was very clear to me that the music was coming from somewhere other than me. However, Kiedis noted that during the recording process of the album "everybody was in a good mood. There was very little tension, very little anxiety, very little weirdness going on and every day we showed up to this funky room in the Valley, and everyone felt more comfortable than ever bringing in their ideas." The band originally wanted to create an "old-fashioned Meet the Beatles-like record," and to keep the number of songs down to about 13, to make "a small, digestible piece of art." They ended up writing 38 new songs with Rubin, recording them all.

The musical style of the album combines many aspects of music from throughout the band's career, with many fans and critics welcoming the return of the band's signature funk sound after its significant absence from By the Way. It is also noted that John's playing style had changed from his signature 'less is more' style, inspired by punk and new wave guitarists to a more flashy approach, drawing influence from guitarists such as Eddie Van Halen and Steve Vai. While he received moderate acclaim before Stadium Arcadium, this change in style gained him far more recognition than before. John also began utilizing layering in his guitar playing, which is something he had not done before (many layered guitar parts appeared on Mother's Milk, but this was mostly because of the insistence of the producer, although it was against John's will) and also used a modular synthesizer on many songs after doing so on his 2004 album Shadows Collide with People. While John was pleased to have used the modular synthesizer on the album, he admitted that when the band began rehearsing for the tour, it was very frustrating because many of the songs sounded very empty without it. This meant the band had to rework many of the songs in order to perform them live.

Kiedis recalled that the band "wanted to on three separate discs that be released in installments...something about those songs made us really like each one. However, by the time we planned to release the third installment in two years, we'll be writing new music." This was the impetus for the band to pare those songs down to 28, a process Kiedis described as "heartwrenching." All of the 10 unused songs have been released in some form or another (see section on B-sides below). He explained the reasoning behind the decision to name the album "Stadium Arcadium" by saying that it had more "variety and verve compared to its predecessors we each have things we do best and it's all in there. Everybody played their part and expressed their creativity to the max."
Genre not found
Artist not found
Album not found
Search results not found
Song not found
Getting born in the state of Mississippi
Papa was a copper, and her mama was a hippy
In Alabama she would swing a hammer
Price you got to pay when you break the panorama
She never knew that there was anything more than poor
What in the world does your company take me for?
Black bandanna, sweet Louisiana
Robbing on a bank in the state of Indiana
She's a runner
Rebel, and a stunner
On her merry way saying baby, watcha gonna?
Looking down the barrel of a hot metal forty-five
Just another way to survive
California, rest in peace
Simultaneous release
California, show your teeth
She's my priestess
I'm your priest
Yeah, yeah, yeah
She's a lover, baby, and a fighter
Should've seen it coming when I got a little brighter
With a name like Dani California
Day was gonna come when I was gonna mourn ya
A little loaded, she was stealing another breath
I love my baby to death
California, rest in peace
Simultaneous release
California, show your teeth
She's my priestess
I'm your priest
Yeah, yeah, yeah
Who knew the other side of you?
Who knew that others died to prove?
Too true to say goodbye to you
Too true to say, say, say
Pushed the fader, gifted animator
One for the now, and eleven for the later
Never made it up to Minnesota
North Dakota man
Wasn't gunnin' for the quota
Down in the Badlands she was saving the best for last
It only hurts when I laugh
Gone too fast
California, rest in peace
Simultaneous release
California, show your teeth
She's my priestess
I'm your priest
Yeah, yeah, yeah
California, rest in peace
Simultaneous release
California, show your teeth
She's my priestess
I'm your priest
Yeah, yeah, yeah
Lyrics © MoeBeToBlame, Peermusic Publishing, WORDS & MUSIC A DIV OF BIG DEAL MUSIC LLC
Written by: Anthony Kiedis, Chad Smith, John Frusciante, Michael Balzary

Lyrics Licensed & Provided by LyricFind
To comment on specific lyrics,
highlight them