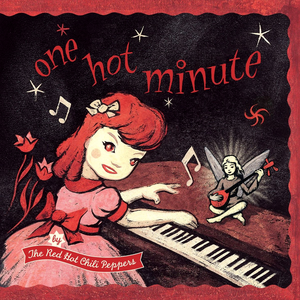 One Hot Minute is the sixth studio album by American alternative rock band Red H…
Read Full Bio ↴
One Hot Minute is the sixth studio album by American alternative rock band Red Hot Chili Peppers, released on September 12, 1995 on Warner Bros. Records.

The worldwide success of the band's previous album, Blood Sugar Sex Magik, caused guitarist John Frusciante to become uncomfortable with their status, eventually quitting mid-tour in 1992. It would be the first and only album former Jane's Addiction guitarist Dave Navarro would record with the band.

One Hot Minute contains fewer sexual themes than previous records, and explores darker subject matters such as drug use, depression, anguish and grief. It also integrated use of heavy metal guitar riffs. Vocalist Anthony Kiedis, who had resumed addictions to cocaine and heroin in 1994 after being sober for more than five years, approached his lyricism with a reflective outlook on drugs and their harsh effects.

One Hot Minute was a commercial disappointment despite producing three hit singles and reaching #4 on the Billboard Top 200. Blood Sugar Sex Magik had sold twice as many copies as One Hot Minute and received far more critical acclaim. Navarro was ultimately fired from the band due to creative differences in 1998.
Genre not found
Artist not found
Album not found
Search results not found
Song not found
Aeroplane
I like pleasure spiked with pain And music is my aeroplane I…
Coffee Shop
I am just a lousy bum Searching for the unknown crumb The…
Deep Kick
It started when we were little kids Free spirits but…
Falling Into Grace
What ever never knew that I could feel so good I…
My Friends
My friends are so depressed I feel the question Of your lone…
One Big Mob
(I am you are me) (I am you are me) good…
One Hot Minute
I was riding Riding on my bike Me with my friend We're so…
Pea
I'm a little pea I love the sky and the trees I'm…
Shallow Be Thy Game
I was not created In the likeness of a fraud Your hell…
Tearjerker
Could you turn up the track a little bit, please My…
Transcending
You are my god, you are my dog You kept me…
Walkabout
I think I'll go on a walkabout And find out what…
Warped
My tendency For dependency Is offending me It's upending me …