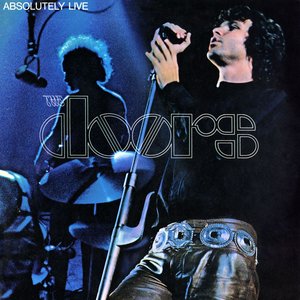 Absolutely Live is the first live album released by American rock band The Doors in July 1970. In 1991, Absolutely Live and 1983's Alive, She Cried were repackaged and released as a two-disc set entitled In Concert, with the addition of one track from 1978's An American Prayer and two from 1987's Live at the Hollywood Bowl. The album was subsequently issued by itself as a single disc set by Elektra in 1996 with new artwork different from the original LP. Until 2012 was not re-issued in the original double vinyl format. Recording Many shows were recorded during the 1970
Read Full Bio
Absolutely Live is the first live album released by American rock band The Doors in July 1970.

In 1991, Absolutely Live and 1983's Alive, She Cried were repackaged and released as a two-disc set entitled In Concert, with the addition of one track from 1978's An American Prayer and two from 1987's Live at the Hollywood Bowl.

The album was subsequently issued by itself as a single disc set by Elektra in 1996 with new artwork different from the original LP. Until 2012 was not re-issued in the original double vinyl format.

Recording
Many shows were recorded during the 1970 tour to create the Absolutely Live album. The Doors' producer and longtime collaborator Paul A. Rothchild claimed to have painstakingly edited the album from many different shows to create one cohesive concert. According to Rothchild's words, the best part of a song from the Detroit show may have been spliced together with another part of the same song from the Boston show, trying to create "the ultimate concert." Rothchild has said, "I couldn't get complete takes of a lot of songs, so sometimes I'd cut from Detroit to Philadelphia in midsong. There must be 2,000 edits on that album." Despite this claim, the Bright Midnight record company (Rhino/Elektra/Warner group) started to publish all the uncut masters of all the shows recorded for Absolutely Live tour (July 1969 – June 1970: Aquarius Theatre 1969, 8 CDs; Live in New York 1970, 6 CDs; Boston 1970, 3 CDs; Philadelphia 1970, 2 CDs, Pittsburgh 1970, 1 CD, Detroit 1970, 2 CDs), definitely proving Rothchild to be wrong. In fact, most of the tracks were taken from the Doors performance at the Felt Forum on January 17 and 18, 1970. Official audio professional proofs show that less than 5 major cuts were done on Absolutely Live album. These recorded audio proofs, from officially available CDs, allow matching of each song on the Absolutely Live album to each recorded concert, showing that Rothchild's claim of multiple edits to songs for cohesiveness is totally untrue. These are the real sources of each song, proving that no major cut or edit was actually done on songs.

The album marks the first release of the complete "Celebration of the Lizard" sequence, albeit in a live version. It had been attempted in the studio during the Waiting for the Sun sessions but eventually abandoned. The album was a treat for fans because it included several new songs which had not appeared on any Doors albums up to that point, such as "Love Hides," "Build Me a Woman," "Dead Rats, Dead Cats," and a cover of the Bo Diddley classic "Who Do You Love?" Truly reflecting the paranoia of post-Miami Doors concerts is the MC's address to the audience, where he urges the rowdy fans to remain seated in threat of the fire department canceling the performance. Morrison comically alludes to the Miami incident in his preamble to "Close to You".

Album Cover
Morrison reportedly hated the album cover for Absolutely Live. He had changed his appearance dramatically since the band's early days, growing a beard and discarding his onstage leather attire in an attempt to overcome his "rock god" image, but was dismayed to find that his record label opted for an earlier photograph of him for the cover. According to Jerry Hopkins' 1980 book No One Here Gets Out Alive:

Originally the cover was going to be an effective grainy, bluish rear-view photo of the band on stage at the Aquarius Theatre where the included "Celebration of the Lizard" had been recorded. Elektra Records art department decided that photo wasn't eye-catching enough. A color photo of Jim, taken during the Hollywood Bowl concert well over a year before, was superimposed squarely over the existing front-cover photo, and before the Doors office knew anything about it, the album was shipped. Jim was furious.
Genre not found
Artist not found
Album not found
Search results not found
Song not found
Who Do You Love
The Doors Lyrics
Yeah, yeah
I walked 47 miles on barbed wire
Cobra snake for a necktie
Built a house by the roadside
Made of rattlesnake hide
Brand new chimney made on top
Made out of human skulls
Come on, baby, take a walk with me
Tell me who do you love?
Who do you love now?
Who do you love now?
Who do you love, babe?
I say, "Who now, who do you love?"
Tombstone head, a graveyard mind
Just 22, I don't mind dying
Rode around the town with a rattlesnake whip
Come on, baby, don't give me no lip
Who do you love now?
Who do you love?
Who do you love, child?
I said, "who, baby, who do you love?"
Night is dark, the sky was blue
Down the alley, the ice wagon flew
Hit a bump, somebody screamed
Should'a heard just what I seen
Do you love him, babe?
Do you love her, yeah
Do you love me, babe?
Do you love it, yeah, yeah
Well, who, baby, who you love?
What do you love now, babe?
Love, love, love me, babe
Love, love, love me, darling
Lyrics © BMG Rights Management
Written by: Ellas McDaniel

Lyrics Licensed & Provided by LyricFind
To comment on specific lyrics,
highlight them