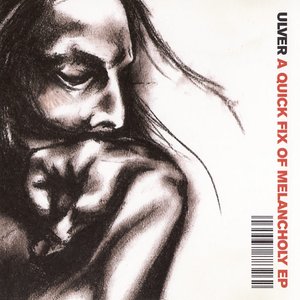 A Quick Fix of Melancholy
"A Quick Fix of Melancholy" is the fourth studio EP by Norwegian avant-garde band Ulver, released in 2003. Track listing: "Little Blue Bird" – 6:35 "Doom Sticks" – 4:40 "Vowels" – 6:18 "Eitttlane" – 5:22 "Eitttlane" is essentially a remix of "Nattleite" (from Kveldssanger); the names are anagrams of each other. The lyrics to the song "Vowels" are taken from a lipogram poem with the same name by Christian Bök, a Canadian experimental poet. Ulver (Norwegian for "wolves") is a multi-disciplinary musical trio from Norway. Since their first, folklore-influenced black metal release in 1993, Ulver's musical style has been fluid
Read Full Bio
"A Quick Fix of Melancholy" is the fourth studio EP by Norwegian avant-garde band Ulver, released in 2003.

Track listing:

"Little Blue Bird" – 6:35
"Doom Sticks" – 4:40
"Vowels" – 6:18
"Eitttlane" – 5:22

"Eitttlane" is essentially a remix of "Nattleite" (from Kveldssanger); the names are anagrams of each other. The lyrics to the song "Vowels" are taken from a lipogram poem with the same name by Christian Bök, a Canadian experimental poet.

Ulver (Norwegian for "wolves") is a multi-disciplinary musical trio from Norway. Since their first, folklore-influenced black metal release in 1993, Ulver's musical style has been fluid and increasingly eclectic, blending genres from avant-garde rock and trip hop through symphonic and chamber traditions, right to noise and experimental music, with heavy reliance on electronic and ambient techniques.
Kristoffer Rygg (September 9, 1976), also known as Garm, Trickster G. and recently also God Head is a Norwegian-Grammy nominated vocalist, musician and producer widely known in the underground metal community for his multi-range singing styles in black metal, experimental music, ambient, electronics, film music, et cetera.

Born in Oslo, Rygg was 16 years old when he formed Ulver, which was considered one of the more experimental bands of the black metal genre as well as an instigator for related subcategories such as folk metal and avant-garde metal.

In addition, Rygg had also been a vocalist for Borknagar (1995-1997) and Arcturus (1993-2003), both of which comprise many eminent musicians from the early Norwegian black metal scene. He was also the one responsible for introducing Borknagar to the singer who replaced him, ICS Vortex, when he parted ways with the band.

Most recently Rygg has also been working with concrete/jazz/improvisational project Æthenor, involving notable musicians such as Daniel O'Sullivan of Guapo, Stephen O'Malley of Sunn O))) and David Tibet of Current 93. In April 2008 he played five concerts with Æthenor in Europe. It was his first time on stage in over a decade.
Genre not found
Artist not found
Album not found
Search results not found
Song not found
Little Blue Bird
Ulver Lyrics
Little bird in blue worlds
Spinning things with wings
Beating the sacred heart
Running cold and scared
Wanting warmer weather
To leave all winter behind
The cutting edge of the sword
In blood of the burning heart
Nailed into unholy ground
And the skies going under
Over paradise is offering
Something to prevent nothing
Little bird in white worlds
Singing nothing to hear
Without heed of the heart
Cut by the swords of heaven
Lyrics © OBO APRA/AMCOS

Lyrics Licensed & Provided by LyricFind
To comment on specific lyrics,
highlight them