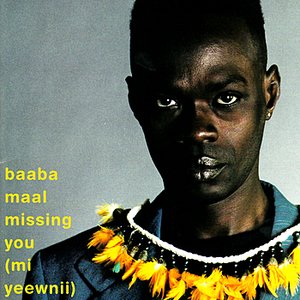 Baaba Maal is a Senegalese singer and guitarist born in Podor, on the Senegal River. His father was a fieldhand and, as such, Baaba Maal was expected to become a fieldhand as well. However, Baaba Maal devoted himself to learning music from his mother and from his school's headmaster. He went on to study music at the university in Dakar before leaving for postgraduate studies on a scholarship at Beaux-Arts in Paris. He has become quite famous in Africa. He is the most internationally famous musician from Senegal after Yossou N'Dour. Baaba is also the foremost promoter of the traditions
Read Full Bio
Baaba Maal is a Senegalese singer and guitarist born in Podor, on the Senegal River. His father was a fieldhand and, as such, Baaba Maal was expected to become a fieldhand as well. However, Baaba Maal devoted himself to learning music from his mother and from his school's headmaster. He went on to study music at the university in Dakar before leaving for postgraduate studies on a scholarship at Beaux-Arts in Paris. He has become quite famous in Africa. He is the most internationally famous musician from Senegal after Yossou N'Dour. Baaba is also the foremost promoter of the traditions of the Pulaar speaking peoples who live on either side of the Senegal River in the ancient Senegalese kingdom of Futa Tooro.


Baaba Maal has full details of events, interviews and updates on http://www.baabamaal.tv.

Baaba Maal will be playing Womadelaide and Womad NZ in March 2012.
Genre not found
Artist not found
Album not found
Search results not found
Song not found
Yoolelle Maman
Baaba Maal Lyrics
We have lyrics for these tracks by Baaba Maal:



African Woman yeah! big ups to all the African women doing their things al…
Agouyadji The agouyadji is sounding Able bodied men rise up In today's…
Ba Baayo (The Orphan) lyrics If God could turn me into a…
Baaba Vazgeçsen olmuyor, ölsen olmuyor Vazgeçsen olmuyor, ölsen ol…
Baayo If God could turn me into a pigeon A golden pigeon…
Bouyel Wouli none Kélétaben nowama Néké té diéwam oumima ??? Niowam…
Daande Lenol I'm gonna love you Like nobody's loved you Come rain or come…
Dunya Salam إِذا المَرءُ لا يَرعاكَ إِلّا تَكَلُّفاً فَدَعهُ وَلا تُكثِر…
Fanta yo soy un hombre sincero de donde crece la palma…
International ghettorap hin ghettorap her, junge du hast kein talent und d…
Kalaajo Walignema kalaajo walignema babaa Han baaba walibe folabe wa…
Koni Wone ko wodnoo doo Inna wana, wanataa ko tindool Hakkoundé m…
Mariama Ah little pigeon Thank you Mariama Diallo, Diallo Dieri Ni…
Minuit Chantez à Minuit, chantez au Minuit! Minuit, pour le cœur se…
Taara Main ajj ik tuteya taara vekhya Javva he mere warga c Te…
There Will Be Time [Baaba Maal in Pulaar] [Baaba Maal in Pulaar] [Baaba Maal i…

The lyrics can frequently be found in the comments below, by filtering for lyric videos or browsing the comments in the different videos below.