Giorgio by Moroder
Daft Punk Lyrics
When I was fifteen, sixteen
When I started really to play guitar
I definitely wanted to become a musician
It was almost impossible because, it was
The dream was so big
That I didn't see any chance
Because I was living in a little town, was studying
And when I finally broke away from school
And became a musician
I thought "well, now I may have a little bit of a chance"
Because all I really wanted to do is music
And not only play music, but compose music
At that time, in Germany, in '69, '70
They had already discotheques
So I would take my car, would go to a discotheque
Sing maybe thirty minutes
I think I had about seven, eight songs
I would partially sleep in the car
Because I didn't want to drive home
And that helped me for about
Almost two years to survive
In the beginning
I wanted to do an album with the sounds of the fifties
The sounds of the sixties, of the seventies
And then have a sound of the future
And I thought "Wait a second
I know the synthesizer, why don't I use the synthesizer
Which is the sound of the future"
And I didn't have any idea what to do but I knew I needed a click
So we put a click on the 24-track
Which then was synced to the Moog modular
I knew that could be a sound of the future
But I didn't realize how much the impact would be
My name is Giovanni Giorgio, but everybody calls me Giorgio
Once you free your mind about a concept of
Harmony and of music being correct
You can do whatever you want
So nobody told me what to do
And there was no preconception of what to do
Lyrics © CONCORD MUSIC PUBLISHING LLC
Written by: Giorgio Moroder, Guy Manuel Homem Christo, Thomas Bangalter

Lyrics Licensed & Provided by LyricFind
To comment on specific lyrics,
highlight them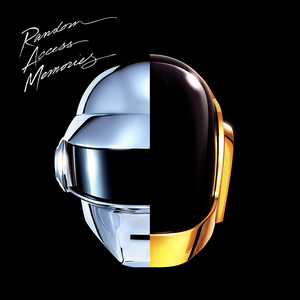 "We met him a few years back, he was always an mythical legend for us, a bit mysterious. His personal life path follows the music. The idea behind the track was to make a sort of documentary based on an interview we did with him. Giorgio Moroder's voice was recorded with different microphones from different periods. We finally ended with over three hours worth of interview material in which he recalls his life as a musician. This track is a great metaphore on musical freedom.
Read Full Bio
"We met him a few years back, he was always an mythical legend for us, a bit mysterious. His personal life path follows the music. The idea behind the track was to make a sort of documentary based on an interview we did with him. Giorgio Moroder's voice was recorded with different microphones from different periods. We finally ended with over three hours worth of interview material in which he recalls his life as a musician. This track is a great metaphore on musical freedom. We always push ourselves to break boundaries between musical genres, between good and bad taste, hype and non-hype. Giorgio is a model in that field. It's fascinating hearing him say at the tender age of 72 "Oh, I was doing electronic music over forty years ago,"
Genre not found
Artist not found
Album not found
Search results not found
Song not found