Ons is fokken mal
Kom ons slag 'n koei
Hang hom onderstebo
Nou gaan hy lekker bloei
Okay mannetjie, tyd vir jou les
Yo jissis vrou, waar's die fokken mes?
(hier so!!)
Fokkit
Yes Yes Yes
Eugene terror met die 666
My moer my vrou flow is rou
Reimpies, skop en donner
Maak gou pappie
Ons is fokken honger
Hou jou bek jou klein frek
Waar is jou respek?
Haal jou vinger uit jou hol
Waar's my fokken zol?
Jissis - klein Frikkie, neus vol snot
(God asseblief - gooi weg daai vrot rot)
Hierso's 'n spliff Pappie
Hierdie goed skop
Kyk die vol maan!
Hierdie kak is aan die gang
Almal!!
Eugene Terror!!!
Dis my fokken naam
Put your hands together
Kom ons bid saam
Super Evil, I am your enemy
Super Evil, I am your enemy
Klein kappie, kaftan
Wat's aan die gang?
Spliff in my hand
Bokkie aan die kant
Groot dagga blaar op my voorkop YO
(Ek hou vannie rooi, groen en gou oppie mou)
Ons is fokken rou
Ons is fokken nou
Ons is fokken hier
Waar's die fokken bier
Kom nou seun, eet daardie been
Nee dankie pa
Ek's 'n vegetarien
Jy's 'n fokken poes
Kyk jou fokken hemp
Wat staan daar, ANC?
Is jy getik in jou kop?
Ons is die AWB
Boerewors, shambok, wys met die vleis
Rotgif in my spliff
Kaftan wit
As ons satan gaan aanbid
(*cough cough*)
Raah, kykie wille bulletjie
Ma, ek voellie lekke nie
Hierso, vat 'n pilletjie
Super Evil, I am your enemy
Super Evil, I am your enemy
Antibiotika is lekker
Dit laat my beter voel
Aaaah – nou voel ek lekker!
Vat 'n sluk van my black alien juice
Ek vat 'n fokken sluk
Then I transform
Ons skud op die dansvloer
Get your arse warm
Die Beste
Vetse
Moederfokken Zefste
Suid Afrikanse rap-rave master
Ninja's on attack, aah
Check ons funny rapper
Fokken alien soos Wikus van der Merwe
Geen fokken skaam
Baby, I'm on..
The microphone with a black alien arm
Fuck up your brain soos 'n ill kop stamp
Fok!
Like my fuckin name was Neil Blomkamp
Super Evil, I am your enemy
Super Evil, I am your enemy
Ninja –aka killer prawn
Yo-landi Visser – aka fok julle naaiers,
You know who you are
Jou ma se poes in 'n vispaste jar
(Sample)
"Toe nou pa, moenie so te kere gaan nie.
Wat moet die mense van ons dink?"
"Man, hulle kan dink net wat hulle wil.
Ek gee okkie eers om nie."
Contributed by Mila E. Suggest a correction in the comments below.
To comment on specific lyrics,
highlight them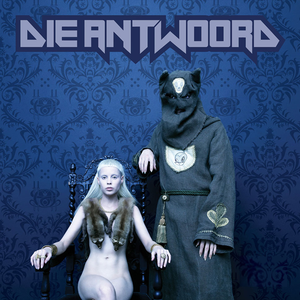 Die Antwoord (Afrikaans for "The Answer") is a South African rap-rave group formed in Cape Town in 2008. The group was formed by rappers Ninja and Yolandi Visser (stylized as ¥O-LANDI VI$$ER), and God (formerly referred to as DJ Hi-Tek). Die Antwoord's image is based on a counterculture movement known as zef in South Africa.
Genre not found
Artist not found
Album not found
Search results not found
Song not found