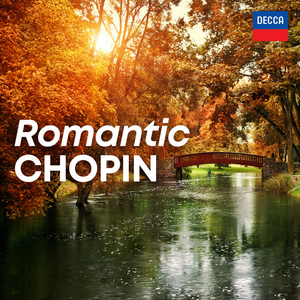 Nocturnes, Op. 32: No. 1 in B major. Andante sostenuto
Frédéric François Chopin (1 March 1810 – 17 October 1849) was a Polish comp…
Read Full Bio ↴
Frédéric François Chopin (1 March 1810 – 17 October 1849) was a Polish composer and virtuoso pianist of the Romantic era who wrote primarily for solo piano. He has maintained worldwide renown as a leading musician of his era, one whose "poetic genius was based on a professional technique that was without equal in his generation."

Chopin was born Fryderyk Franciszek Chopin in the Duchy of Warsaw and grew up in Warsaw, which in 1815 became part of Congress Poland. A child prodigy, he completed his musical education and composed his earlier works in Warsaw before leaving Poland at the age of 20, less than a month before the outbreak of the November 1830 Uprising. At 21, he settled in Paris. Thereafter—in the last 18 years of his life—he gave only 30 public performances, preferring the more intimate atmosphere of the salon. He supported himself by selling his compositions and by giving piano lessons, for which he was in high demand. Chopin formed a friendship with Franz Liszt and was admired by many of his other musical contemporaries (including Robert Schumann). In 1835, Chopin obtained French citizenship. After a failed engagement to Maria Wodzińska from 1836 to 1837, he maintained an often troubled relationship with the French writer Amantine Dupin (known by her pen name, George Sand). A brief and unhappy visit to Majorca with Sand in 1838–39 would prove one of his most productive periods of composition. In his final years, he was supported financially by his admirer Jane Stirling, who also arranged for him to visit Scotland in 1848. For most of his life, Chopin was in poor health. He died in Paris in 1849 at the age of 39, probably of pericarditis aggravated by tuberculosis.

All of Chopin's compositions include the piano. Most are for solo piano, though he also wrote two piano concertos, a few chamber pieces, and some 19 songs set to Polish lyrics. His piano writing was technically demanding and expanded the limits of the instrument: his own performances were noted for their nuance and sensitivity. Chopin invented the concept of the instrumental ballade. His major piano works also include mazurkas, waltzes, nocturnes, polonaises, études, impromptus, scherzos, preludes and sonatas, some published only posthumously. Among the influences on his style of composition were Polish folk music, the classical tradition of J.S. Bach, Mozart, and Schubert, and the atmosphere of the Paris salons of which he was a frequent guest. His innovations in style, harmony, and musical form, and his association of music with nationalism, were influential throughout and after the late Romantic period.

Chopin's music, his status as one of music's earliest superstars, his (indirect) association with political insurrection, his high-profile love-life, and his early death have made him a leading symbol of the Romantic era. His works remain popular, and he has been the subject of numerous films and biographies of varying historical fidelity.

Over 230 works of Chopin survive; some compositions from early childhood have been lost. All his known works involve the piano, and only a few range beyond solo piano music, as either piano concertos, songs or chamber music.

Chopin was educated in the tradition of Beethoven, Haydn, Mozart and Clementi; he used Clementi's piano method with his own students. He was also influenced by Hummel's development of virtuoso, yet Mozartian, piano technique. He cited Bach and Mozart as the two most important composers in shaping his musical outlook. Chopin's early works are in the style of the "brilliant" keyboard pieces of his era as exemplified by the works of Ignaz Moscheles, Friedrich Kalkbrenner, and others. Less direct in the earlier period are the influences of Polish folk music and of Italian opera. Much of what became his typical style of ornamentation (for example, his fioriture) is taken from singing. His melodic lines were increasingly reminiscent of the modes and features of the music of his native country, such as drones.

Chopin took the new salon genre of the nocturne, invented by the Irish composer John Field, to a deeper level of sophistication. He was the first to write ballades and scherzi as individual concert pieces. He essentially established a new genre with his own set of free-standing preludes (Op. 28, published 1839). He exploited the poetic potential of the concept of the concert étude, already being developed in the 1820s and 1830s by Liszt, Clementi and Moscheles, in his two sets of studies (Op. 10 published in 1833, Op. 25 in 1837).

Chopin also endowed popular dance forms with a greater range of melody and expression. Chopin's mazurkas, while originating in the traditional Polish dance (the mazurek), differed from the traditional variety in that they were written for the concert hall rather than the dance hall; as J. Barrie Jones puts it, "it was Chopin who put the mazurka on the European musical map." The series of seven polonaises published in his lifetime (another nine were published posthumously), beginning with the Op. 26 pair (published 1836), set a new standard for music in the form. His waltzes were also written specifically for the salon recital rather than the ballroom and are frequently at rather faster tempos than their dance-floor equivalents.
Nocturnes Op. 32: No. 1 in B major. Andante sostenuto
Frédéric Chopin Lyrics
We have lyrics for these tracks by Frédéric Chopin:
Dwojaki koniec
Rok się kochali a wiek się nie widzieli Zbolały serca oboje…
Gdzie lubi
Strumyk lubi w dolinie Sarna lubi w gęstwinie Ptaszek lubi p…
Hulanka
Szynkareczko szafareczko Co ty robisz stój Tam się śmiejesz …
Melodia
Z gór gdzie dźwigali Strasznych krzyżów brzemię Widzieli z d…
Moja Pieszczotka
Moja pieszczotka gdy w wesołej chwili Pocznie szczebiotać i …
Narzeczony
Wiatr zaszumiał między krzewy Nie w czas nie w czas koniu Ni…
Nie Ma Czego Trzeba
Mgła mi do oczu zawiewa z łona W prawo i w…
Nocturne
My books lie unopened We've barely left a word unspoken Exp…
Pierscien
Smutno niańki ci śpiewały A ja już kochałem A na lewy palec…
Posel
Rośnie trawka ziółko Zimne dni się mienią Ty wierna jaskółko…
Precz Z Moich Oczu
Precz z moich oczu Posłucham od razu Precz z mego serca I se…
Sliczny Chlopiec
Wzniosły smukły i młody O nielada urody Śliczny chłopiec cze…
Smutna Rzeka
Rzeko z cudzoziemców strony Czemu nurt twój tak zmącony Czy …
Spiew Z Mogilki
Leci liście z drzewa Co wyrosło wolne Znad mogiły śpiewa Jak…
Śpiew z mogiły
Leci liście z drzewa Co wyrosło wolne Znad mogiły śpiewa Jak…
Wojak
Rży mój gniady ziemię grzebie Puśćie czas już czas Ciebie oj…
Zyczenie
Gdybym ja była słoneczkiem na niebie Nie świeciłabym jak tyl…
The lyrics are frequently found in the comments by searching or by filtering for lyric videos
Genre not found
Artist not found
Album not found
Search results not found
Song not found