Hillside building, falling grass
Forest filling, velvet pass
Steplike structure, view commanding
Flatland feeding, homeland breeding
Can we see the years fast ticking
Bringing us what will be past?
Should I not say of my own land
"I will never build a house"?
Human rabbits feeding, breeding, leading, needing normal lives
Bringing, banging, clanging, breathing smoke and soot, the man arrives!
Some are thinkers with ideals.
Some are running around waving their arms in the air
With no idea what they are trying to accomplish here
Electric growing, telecom going deeper and deeper into space
One day coming, all have plumbing, save us from this frantic pace!
Fearful feeling not withstanding
Hillside dream I not abandon
Still I stir this troubled question
Shall I wear my last clean sox?
Shall I put them in a box?
Should I wear them out?
Should I have another stout?
When I think I'm only spinning wheels
In hopes of slowly pinning down in mind a firm conclusion
How the fuck to live my life…
Motherfucker
Contributed by Cameron C. Suggest a correction in the comments below.
To comment on specific lyrics,
highlight them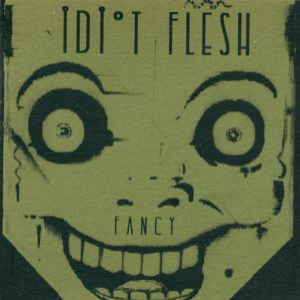 Idiot Flesh was a talented and musically discordant band blending by a wide array of influences ranging from funk to prog rock and heavy metal as well as aspects of Eastern European Folk, Opera & Butoh dance performances. Formed in Oakland, California, USA in 1985 under the name Acid Rain with the demo album "We Were All Very Worried." They eventually changed their name to Idiot Flesh prior to the release of their first album in 1990. After Idiot Flesh disbanded in the late 90's
Read Full Bio
Idiot Flesh was a talented and musically discordant band blending by a wide array of influences ranging from funk to prog rock and heavy metal as well as aspects of Eastern European Folk, Opera & Butoh dance performances. Formed in Oakland, California, USA in 1985 under the name Acid Rain with the demo album "We Were All Very Worried." They eventually changed their name to Idiot Flesh prior to the release of their first album in 1990. After Idiot Flesh disbanded in the late 90's, lead singer Nils Frykdahl and bassist/producer Dan Rathbun later formed Sleepytime Gorilla Museum.

Known to tour the US in a converted city bus with Rathbun as the driver/mechanic, with the windshield destination banner of HELL. Besides their wild performances which embodied a "rock against rock" ethos, they were also known to defy classification with marching band routines, performing puppet shows, and playing household items as instruments (in tune). After finding few financial rewards for their increasingly complex stage show, Idiot Flesh disbanded in 1998.

Core Members:

- Captain Dragon (Gene Jun; Guitar, Percussion, Violin, Vocals, Arranger)
- Hyena Boy (Wes Anderson; 1994-1998: Percussion, Drums, Marimba, Multi Instruments, Talking, Vocals, Bassoon, Trash Cans)
- The Improver (Dan Rathbun; Bass, Multi Instruments, Saw, "Talking", Horn, Vocals, Trombone, Cello, Megaphone; Engineer)
- Pin (Nils Frykdahl; Flute, Saxophone, Percussion, Castanets, Vocals, Guitar; Cover Design/Graphics)
- Chuck Squier (1985 through 1994: Drums, Cover art)

Discography:

- (1990) Tales of Instant Knowledge and Sure Death
- (1994) The Nothing Show
- (1995) Teen Devil/Twitch (4 Song EP)
- (1997) Fancy (Nov. 11)
Genre not found
Artist not found
Album not found
Search results not found
Song not found