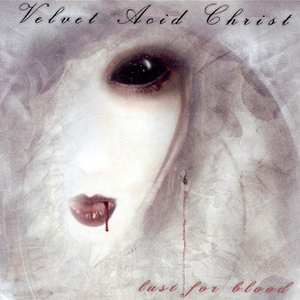 Velvet Acid Christ (VAC) is an electro-industrial band based in Denver, Colorado, United States. The band was formed in 1990 by lead vocalist, musician, and producer Bryan Erickson and various ex-members of Toxic Coma. The project gained limited popularity in Europe's underground nightclub scene during the mid-1990s with the compilation Church of Acid (1996) before expanding into other markets in the goth and industrial subcultures. The band's discography includes 11 studio albums
Read Full Bio
Velvet Acid Christ (VAC) is an electro-industrial band based in Denver, Colorado, United States. The band was formed in 1990 by lead vocalist, musician, and producer Bryan Erickson and various ex-members of Toxic Coma. The project gained limited popularity in Europe's underground nightclub scene during the mid-1990s with the compilation Church of Acid (1996) before expanding into other markets in the goth and industrial subcultures. The band's discography includes 11 studio albums, the latest being Maldire (2012) and Subconscious Landscapes (2014).

Current Members:
Bryan Erickson (a.k.a. Hexfix93, Disease Factory) - lead vocals, composition, guitar, lyrics, mixing, production, various

Early projects, early changes, and first albums (1990–1995)

In the early 1990s, Erickson and Grigory, both residents of Colorado, brought together their shared interest in creating music to record a series of demos. With the addition of Gary Slaughter and Chris Workman, the group attempted several bands, including Disease Disco Factory, a parody of then-popular Dance group C+C Music Factory. Following a turbulent period for Erickson and Slaughter, Workman left the group. Slaughter and Erickson experimented with two new side-projects, Cyber Christ and Vortex. Cyber Christ explored a harsh and melancholy sound that was a sharp contrast to the group's other projects. When Erickson discovered that the term "Cyber Christ" had been used in the 1992 film The Lawnmower Man, he renamed the band Velvet Acid Christ in honor of a bad acid trip. The Vortex project was merged into Velvet Acid Christ to form one body of work.

In 1994, Workman returned to assist with the band's self-produced gothic-styled demo tape, Fate. Given encouraging response from friends, the band followed up with other self-produced albums, 1994's Pestilence, a dance-oriented album, and 1995's Neuralblastoma, a harder-sounding album.

Erickson, along with friends and minor contributors Steve Bird and Dan Olson, started the brief-lived record label Electro Death Trip (EDT) Records to better promote these recordings. In 1995, the three began distributing hand-made CD copies of Fate, Pestilence, and Neuralblastoma for resale in local music shops.

Label interest, touring, and a troubled rise (1996–2000)

Slaughter and Workman temporarily left the band during the first half of 1996 as Erickson continued the project alone, handing out copies of Velvet Acid Christ's recordings to industry representatives, including musician Bill Leeb of industrial pioneer Front Line Assembly. Leeb passed the music to Thorsten Stroht, a media promoter with European label Off-Beat Records. Off-Beat A&R negotiated a deal with the band.

For their first Off-Beat release, the group submitted 1996's Church of Acid, a compilation of selected tracks from Velvet Acid Christ's first three albums with an additional two new tracks, Disflux and Futile. Church of Acid was well received in Europe, and Futile became a regularly played track in many nightclubs across the continent. In 1997, United States label Pendragon Records released Church of Acid in America, though the two new tracks were removed due to a lack of trademark clearance for television samples used in the songs.

The band's next album, Calling Ov the Dead, was rejected by Off-Beat for not sounding edgy enough, prompting Slaughter's permanent departure. With the assistance of Bird and Olson, the band addressed the label's concerns and released Calling Ov the Dead in late 1997, with American distribution following through Pendragon in 1998. In the process, Erickson had accumulated a substantial financial debt.

With a line-up consisting of Erickson, Stroht and German musician Ingo Beitz, the band toured Europe in 1998 with Off-Beat label-mate Suicide Commando, which attracted the attention of Metropolis Records, the largest industrial label in United States. The parent label of Pendragon, Metropolis distributed the album Neuralblastoma, as a partnership that would endure.

Velvet Acid Christ spent the majority of 1999 in the studio, first collaborating with Germany's Funker Vogt on a remix EP entitled Velvet Acid Christ Vs Funker Vogt: The Remix Assault, then shifting to Velvet Acid Christ's next full-length recording, Fun With Knives. With Workman an occasional contributor, Erickson sought production assistance on Fun With Knives from the bands Luxt and 4th New Army. Fun with Knives, released by Metropolis and new Off-Beat sub-label dependent, became the band's best-selling album. Sales were propelled by the singles Decypher and Fun with Drugs, and by the track Slut, which featured vocals from Luxt's Anna Christine.

In spite of the success of the band, stress had led Erickson into depression and increased drug abuse, which channeled into the creation of the band's next album, Twisted Thought Generator. Simultaneously, the band toured Europe with industrial acts Project X and Stromkern and toured the United States and Canada with bands Din_Fiv and Haujobb. The line-up of the band during this period was unstable. Workman, citing a conversion to Christianity, resigned from the band with a request that his name be retracted from all previous albums. The first leg of the European tour consisted of Erickson, Bird and Stroht; the second leg, Erickson and Olson. The North American tour was performed by Erickson, Stroht and drummer Paul Lipman. With various contributors, Erickson completed Twisted Thought Generator. Due to lingering disputes, he withdrew the band from Dependent Records and submitted the album to Metropolis.

A change of pace, new early material, and beyond (2001– present)

Erickson placed Velvet Acid Christ on a short hiatus in 2001, as he abandoned his dependence on drugs in favour of exercise and a vegan raw foodist diet. Newly clean, Erickson created the 2003 album Hex Angel: Utopia/Dystopia. Though critical response was mixed, Hex Angel: Utopia/Dystopia ranked #1 on Germany's Deutsche Alternative Charts (DAC) for four weeks after its release, and the album's single Pretty Toy reached #18 on the Billboard Alternative Chart during the same year. The album also marked the band's short-lived return to Dependent Records.

Erickson spent 2004 releasing and reissuing some of Velvet Acid Christ's earliest material. With the four-volume compilation series Between the Eyes, the band published a collection of its singles and B-sides, then followed with subsequent re-releases of Fate (Vol. 2), Pestilence (Vol. 3), and Neuralblastoma (Vol. 4). The band also offered free MP3 downloads of Dimension 8 and Oblivion Interface on its website until early 2005. Dimension 8, which had been available as a hidden bonus on Twisted Thought Generator, and Oblivion Interface (informally known as Between the Eyes, Vol. 5) provided fans with previously unheard work from the Cyber Christ-Vortex era of 1991–1994.

In 2005, Erickson collaborated with guitarist Todd Loomis on a new album, Lust for Blood, which was released on September 26, 2006. With Lust for Blood, the crew labored intensively to create a new overall sound while maintaining the band's original characteristics. Following its release, Lust for Blood ranked at the top of Germany's DAC for four weeks; the album's single release, Wound, ranked on the DAC's singles chart for eight weeks and held the #1 position for four weeks.

In 2009, Erickson began to create the next LP with minimal input from Loomis this time when he was working on his project The Twilight Garden. The result was The Art of Breaking Apart, released October 27, 2009. This LP was a tribute to bands like Current 93 and Death in June and brought VAC many new fans while making the others angry at the new direction of the music.

In 2010–2011, Bryan Erickson teamed up with William Anderson of Louisiana. William did a ton of sampling, and Bryan made a bunch of VAC B-sides that turned into Toxic Coma tracks. The project had a revolving door of members, again Bryan being the main constant. They released a LP entitled Satan Rising under Toxic Coma on Metropolis Records. It fused the techno sound of Fun With Knives and the brutal black humor of Toxic Coma. Erickson then began to write more music for future VAC LPs.

In October 2012, Velvet Acid Christ released their tenth LP entitled Maldire. The release marked a return to the dark electronic sound. Erickson formed a live band and toured extensively (2012-2014) to support the album. The latest album entitled Subconscious Landscapes was released October 28, 2014. A remastered Greatest Hits compilation was released by Metropolis Records on May 6, 2016.

Discography:

Studio Albums
1994 - Fate
1994 - Pestilence
1995 - Neuralblastoma
1997 - Calling Ov the Dead
1999 - Fun With Knives
2000 - Twisted Thought Generator
2003 - Hex Angel (Utopia/Dystopia)
2006 - Lust for Blood
2009 - The Art of Breaking Apart
2012 - Maldire
2014 - Subconscious Landscapes

Compilations / Demos / EPs / Singles
1992 - Oblivion Interface (demo re-released in 2004)
1993 - Dimension 8 (demo re-released in 2000)
1996 - Church of Acid (1994-1995 compilation)
1998 - Neuralblastoma (1994-1995 compilation)
1999 - Fun With Razors (remix EP)
1999 - Decipher (maxi-single)
1999 - Fun With Drugs (maxi-single)
1999 - The Remix Wars: Strike 4: Funker Vogt vs. Velvet Acid Christ (remix EP)
2001 - Dial 8 (maxi-single)
2003 - Pretty Toy (maxi-single)
2004 - Between the Eyes Vol. 1 (singles compilation)
2004 - Between the Eyes Vol. 2 (re-release of Fate)
2004 - Between the Eyes Vol. 3 (re-release of Pestilence)
2004 - Between the Eyes Vol. 4 (re-release of Neuroblastoma)
2006 - Wound (maxi-single)
2009 - Caustic Disco (maxi-single)
2016 - Greatest Hits (remastered compilation)
Genre not found
Artist not found
Album not found
Search results not found
Song not found
We have lyrics for these tracks by Velvet Acid Christ:



Amnesia Sitting alone Scratch at your skin Call out your name…
Apflux You sit here An axe in your hand With blood in your…
Asphixia We shot the sky 40 times. And disappeared in freezing…
Bend the Sky It's this perfect harmony That tires me so endlessly It's …
Black Rainbows Home is something you don't have. The eyes that look throug…
Blood Like tears of blood that roll off your hands As if…
Broken Mind Clutching my hands, nails at my skin, the rules of…
BSAT2 I saw you yesterday I'll bring you to the grave With your…
Caught Insanity, just a word used to sum up All the things…
Caustic Disco Hell emission Sell emotion Sick devotion Down in the gutt…
Collaped Voiceless, Useless in their game Sightless, Blinded by their…
Convex Hold, hold me down, make me wish, make me wish…
Crawl Hopeless dead wretched failing Never escaping never escaping…
Crushed The thing inside you on your blackest day, That voice insid…
Crypulse This asset, a chameleon, a million eyes ripping in places S…
Cyclone Chamber (coughing) there over the sky, walking dust, search your gro…
Damnation What in the fuck, what in the fuck. i fall, think only…
Dark Lights Our father, who aren't in heaven Hollow be thy name Thy king…
Dead Flesh No, I don't give a fuck about you and your…
Dead Tomorrow Don't you understand me? In the back of all these visions Al…
Decay It's too late now to start the fight It's too late…
Decypher I look into your mind I rip apart your soul I cut…
Despotic Pain my friend, your fucking dead wasted life, puking. pul…
Dial 8 On a sea of nails in self doubt I push this…
Dial 8 (bound and gagged by di On a sea of nails in self doubt I push this…
Dilaudid Falling down further in this void How was that you who…
Dire Demons have eyes Words cant disguise hate Empty promise yo…
Discolored Eyes Moving on the floor through broke glass Twitching from befo…
Disconnected Nightmare Close your eyes, dance on the edge of a dream Close…
Disflux Fucking lie, your fucking lie You'll fucking die, now fucki…
Eva I failed I failed You're an angel You're an angel Made of me…
Evoked I call upon the raven And the bat! And all the dark…
Exquisite Stench Tear apart the nation Call subversive infiltration Live with…
Eye H8 U Undead hunting still Postponed nothingness Dead children l…
Fade Away No fun, no dreams, no life, no time No fun, no…
Faithless believe in nothing no one no where forgotten regret heart…
Falling Snow My life, is breaking down, I see your eyes, falling…
Fiction Friction To shoot yourself in the head. to separate the truth.…
For Do you pray for life Do you kick and scream Do you…
Fried Answers to why, two questions, she's lying again, he star…
Fun With Drugs Sick distorted colors that stab into your skin The fluctuati…
Fun With Knives Blood, guts Fun with knives Blood, guts Fun with knives Die,…
Futile Assimilate the night They cut into your brain They crack apa…
Grey …
Grizzly Reaper I decide, backwards in time, buried again, so long down. …
Hail to Dead Souls Dead souls wailing in water, frozen like a tide of…
Hallucinagene I steal the night, I hope they live I watch you…
Hand Ripping tearing smash the controls let it all go down…
Haunted Treachery abstinence in consequence Open eyes blinded to the…
Hell One Did you ever fucking care? Liar Liar Liar You fucking liar F…
Hell Two Blood stained hands Rust is eating my skin The decay is clea…
Hullucinagene I steal the night, I hope the live I watch you…
Hypoxia Can't breath, Can't talk Can't make sense at all You twitc…
I Did you ever fucking care? Liar Liar Liar You fucking liar F…
I'm Gonna Wrap Myself in Your Intestines Your gunna die tonight, I'm gunna eat your flesh, I'm…
Icon On and on the blood begins to spill I'll forever hate…
Intussusception This is now, we live So cold, and lifeless Just sitting here…
Kashmir Crack Krishna Faker they make her disbelieve, out of god running scared,…
Killing A Stranger Burning eyes Burning face Burning mind Screams in pain E…
Killing Me Oh pain, inside, where you lock your dream away Oh lay…
Let Electric shock, a beating heart, crush it down into the…
Lust we scream outside with the kiss of life, like the…
Lysergia Acid dreams and nicotine Violent screams from a mezzanine Se…
Machine Plug in, Plug in to the machine, Save us a…
Maldire Can't believe in you I'll cast the spell Won't believe in …
Malfunction Malfunction Eats through these dreams Shapes me into 3 Memor…
Masked Illusion Hallucinate, devastate Your weak-minded state So you crawl o…
Melting That's the life you lead, that's the time you feed,…
Mental Depression Mental depression, aggression, obsession Mental oppression, …
Misery Forever in our illusions, forever in our fate Forever in our…
Murder the World Rip apart your face with a life force of disgrace…
Mysteric Mortal I speak your name Mortal I try in vain Mortal the…
Never Worship 6. Never Worship (Bruised Knees Mix) Look inside, see your …
Never Worship (Bruised Knees mix) Look inside, see your secrets and live and die, we live on s…
Ominous Rattle I've got to wake up wake up in the world to…
Pain Locked in a still position Swaying back and forth Needles in…
Parasite Turn me out again, tear me out again. The look…
Phucked Up Phreak Murder the feelings all left aside From all those days…
Phucking Phreak Murder the feelings all left aside From all those days you…
Planck's Constant Fuck you, motherfucker Rusty nails rip at my hands Rolling d…
Plasmodium Crawl in a world With a vision thing They drool on the…
Polyester Meth Zeus Rot in our scar break down the wretched worms, like…
Pray For Life Do you pray for life Do you kick and scream Do you…
Pretty Toy Such a pretty toy Such a pretty toy to play with Such…
Psycho Save you, kill you Save you, thrill you Sick of your shit,…
Rain for 27 Days No different, no difference, your no different, no different…
Repulsive Rape yourself of entity A nail surging in Sewn up in powers …
Revolution 101 Psycho driven insanity Of man and machine A technological th…
Sadder Still Sadder still, sadder still, sadder still, you watch it die. …
Satan Complex Destroy It's the vein, they're the same, lost Religion, reli…
Serial Killer 101 Four tears in my eyes Acid eats through my skin We broke…
Sex Disease When sex is a pretext to a disease We'll crawl inside,…
She Bleeds Red All over there, you sit here, wishing and dreaming you…
Slut Well it may sound absurd I want to be a wreck…
So Much So much for you and me, so much you can't…
Speedball O.D Listen to reason In the back room where I started From the…
Strychnine As I sit here Wishing for something else Writhing hurting …
Taste The Sin Sin. Gushing gasping through all of it My flesh it seems…
The Art Of Breaking Apart Into the dark and I feel nothing The dead dog…
The Calling I rip apart the sky with a knife Tear out your…
The Calling (Fuck Shit Mother Fucker mix) i rip apart the sky with a knife tear out your own…
The Dark Inside Me ~no lyrics instrumental~…
The Dead Twisted up inside, knotted to the core Learned to abhor, th…
The Figurehead Sharp and open, leave me alone And sleeping less every nigh…
The Hand Ripping tearing smash the controls let it all go down…
The Hopeless A force fed lie, our dead dream, awake upon a…
The Last Goodbye Died on a cross and the hatchets tore his skin Like…
There Is No God Hold up these words so holy and pure Confused again, yeah,…
Thought Criminal Darkness again Sleeping upside down On a pillow of nails Pus…
Timeless Visions Try to rape your mind With your drugs and your guns And…
Tripped Out You are the picture and I am the pen You are…
Vaginismus A siren of light bleaking out And now it's time to…
Velvet Pill Holding me down in a mess an onholy wreck A lost…
Want Disease Burning all people infiltrated. hurting now, i cant see an…
We Have to See To tread the unexplored corridors In the hope of finding…
We Have to See We Have to Know To tread the unexplored corridors In the hope of finding…
Wound Like a wound that wont stop bleeding 2x, crying eyes…
Zalflex …
Zix Zix Zix 666, 666. Velvet Acid Christ, Velvet Acid Christ. 666.…

The lyrics can frequently be found in the comments below or by filtering for lyric videos.