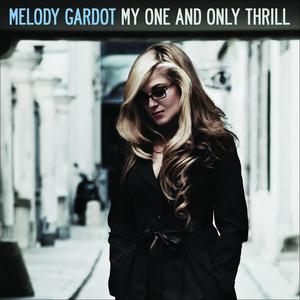 Melody Gardot's 2006 debut, Worrisome Heart, was greeted with warmly enthusiastic reviews that never failed to mention Gardot's musical similarities to Norah Jones and Madeleine Peyroux, or her sadly compelling story of surviving a severe hit-and-run accident at the age of 19. The tragedy gave critics an irresistible hook, and the musical similarities — which also include her vocal resemblance to Fiona Apple's smoky tones — gave new listeners a familiar touchstone, but both merely provided an entry into a fine, accomplished debut. Released three years later, Gardot's second album, My One and Only Thrill, proves that the first was
Read Full Bio
Melody Gardot's 2006 debut, Worrisome Heart, was greeted with warmly enthusiastic reviews that never failed to mention Gardot's musical similarities to Norah Jones and Madeleine Peyroux, or her sadly compelling story of surviving a severe hit-and-run accident at the age of 19. The tragedy gave critics an irresistible hook, and the musical similarities — which also include her vocal resemblance to Fiona Apple's smoky tones — gave new listeners a familiar touchstone, but both merely provided an entry into a fine, accomplished debut. Released three years later, Gardot's second album, My One and Only Thrill, proves that the first was no fluke; it doesn't build upon the debut so much as it sustains its quality. Like before, My One and Only Thrill is built primarily on Gardot originals (a fine version of "Over the Rainbow" that closes the album being the only exception) that seamlessly blend sultry, late-night jazz blues, singer/songwriter introspection, and sophisticated pop melodies. If anything, My One and Only Thrill emphasizes Gardot's chanteuse qualities, feeling like more of a jazz album than its predecessor, thanks both to its languid atmosphere and also Gardot's phrasing, which elegantly elongates her melodies and slips into scat. These are slight, subtle progressions but what impresses is how thoroughly My One and Only Thrill lives up to the promise of her debut, offering another album that is as enchanting in its sound as it is in its substance.
Genre not found
Artist not found
Album not found
Search results not found
Song not found
How was I to know that this was always
Only just a little game to you?
All the time I felt you gave your heart
I thought that I would do the same for you
Tell the truth, I think I should have
Seen it coming from a mile away
When the words you say are
Baby, I'm a fool who thinks it's cool to fall in love?
If I gave a thought to fascination
I would know it wasn't right to care
Logic doesn't seem to mind that
I am fascinated by the love affair
Still my heart would benefit from
A little tenderness from time to time, but never mind
'Cause baby, I'm a fool who thinks it's cool to fall in love
Mm-mm-mm, mm-mm-mm, mm-mm
Mm-mm-mm
Yeah
Baby, I should hold on just a moment
And be sure it's not for vanity
Look me in the eye and tell me
Love is never based upon insanity, yeah
Even when my heart is beating
Hurry up the moment's fleeting
Kiss me now, don't ask me how
'Cause baby, I'm a fool who thinks it's cool to fall
Baby, I'm a fool who thinks it's cool to fall
And I would never tell if you became a fool and fell in love
Lyrics © Warner Chappell Music, Inc.
Written by: Melody Gardot

Lyrics Licensed & Provided by LyricFind
To comment on specific lyrics,
highlight them