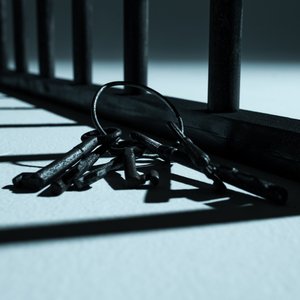 NF is the stage name of rapper and composer Nate Feuerstein from Gladwin, Michigan. Feuerstein endured a hardship-filled childhood in which his parents divorced, his mother's boyfriend physically abused him, and his mother eventually killed herself. Music was his escape, and he began recording songs on a karaoke machine, with instrumentals on one microphone and his raps in the other. Placing second in a nationwide Fine Arts Festival rap competition in 2008
Read Full Bio
NF is the stage name of rapper and composer Nate Feuerstein from Gladwin, Michigan. Feuerstein endured a hardship-filled childhood in which his parents divorced, his mother's boyfriend physically abused him, and his mother eventually killed herself. Music was his escape, and he began recording songs on a karaoke machine, with instrumentals on one microphone and his raps in the other. Placing second in a nationwide Fine Arts Festival rap competition in 2008, and first in Michigan the following year, he independently released a debut album, Moments, in 2010. The album attracted the attention of Xist Music, which signed him to a recording deal in 2012, by which time Feuerstein had taken on the stage name NF. The label announced the release of an EP that same year, but it never appeared, and NF and Xist parted ways. NF spent the next two years looking for a label and working with local producer Tommee Profitt in his studio; they came up with the song "Wake Up," which convinced Capitol Christian Music Group to sign him. CMG released a six-song (including a Manny Marroquin remix of "Wake Up") self-titled EP late in the summer of 2014. His debut album, Mansion, was released in early 2015 and reached number 62 on the Billboard 200 while topping the Christian Albums chart. The aptly titled Therapy Session followed in 2016 and also topped the Christian Albums chart with its raw emotions and honest lyrics. The following Summer saw the release of the singles "Outro" and "Green Lights", in anticipation of the arrival of his third studio long player, Perception, whch dropped later that October.
Genre not found
Artist not found
Album not found
Search results not found
Song not found
NO NAME
NF Lyrics
Look, people ask me what the future is
All I know is I'll be doin' this
All I know is things are moving quick
That's convenient for me 'cause that's how I live
Now they see me out here movin' up
You don't like me, that makes two of us
Time change, yeah, I can't adjust
Yo, it's who you are not who you was, oh my
Yeah, just went to Europe, they said the single is working
I think I'm learning, I am way more than people might think when they look on the surface
What is my purpose? Yeah
That is a question that I have been asking myself and it hurts
'Cause it's prolly something I should already know but I don't know it yet
I'm tryna grow as a person, woo!
I'm sick of people tellin' people I'm here 'cause of marketing dollars, oh
You think that everything is gonna blow just 'cause you market it harder? No
I got my hands in everything, now they out here tryna get to me
Stop tryna lecture me
You don't compare to my level of thinking, so why do you think you compare to my energy, huh?
Small circle, but the number's growin'
Fame called me, I'm like, "How you doin'?"
Hung up on him, I ain't ready for it
I'll get back to that when I make album four
Less talking, I've been workin' more
Better me is what I'm workin' towards
Y'all judgin', but we not in court, no, we not in court, oh Lord!
Last couple years, let's recap
I make a livin' off of writin' out my regrets
I'm doin' me, I don't care where the scene's at
Try to give me feedback, I don't really need that
I used to walk on stage in a V-neck
I used to wear a lil' tie with a black vest
I came a long way, why you lookin' upset?
I'm tryna paint a picture, get the vision, you ain't hear it yet, woo!
Look, hold up, hold up, wait a minute, please
Flow's switchin', I got ADD
Brain scatters when you play the beat
It don't matter what you say to me
I'll be doin' this at 83
I've been doin' this since ABC's
In the major leagues doin' major things, don't play with me, woo!
I'm livin' life in the fast lane
Wake up every morning thinkin' I'ma have a bad day
Drive my own car, I don't like the valet
Parked, then I go into my mind with an AK
Shoot every thought in my head then it rotates
Losin' it all, but I think that I'm okay
Who is involved? I don't know, but I'm insane
Poof! And I'm gone, wanna call me a no name, what!?
I'm prolly not what you thought
I'm prolly not what you thought
I used to judge everybody that wasn't like me 'til I learned it was wrong
Girl told me I should get it together and get out the dark
I'm tryna give her my heart
That's when I sit in my car, writin' for hours until I can barely talk
I mean, where do I start?
Feels like I'm fallin' apart
Act like my image is hard
I always put up my guard
Even when talkin' to God
Sit in my room and I plot
Everything that I'm not
Comes out in the music I jot
I give it all that I got
I give it all that I got!
I'm tryna think out the box, no!
Yeah, I got people standing outside a bus screaming my name
I don't come out and take pictures, they tell me I changed
I don't smile in VIPs, you get mad like, "You know what I paid?"
Guess I don't know what to say
Guess I don't know what to say
I leave it all on the stage
I leave it all on the stage
Lyrics © Universal Music Publishing Group, Capitol CMG Publishing, Songtrust Ave
Written by: Nate Feuerstein, Tommee Profitt, Cameron Doyle

Lyrics Licensed & Provided by LyricFind
To comment on specific lyrics,
highlight them