As Ek Val
Jay Lyrics
Jump to: Overall Meaning | Line by Line Meaning
Met elke tree
wat jy gee
is ek reg lanks jou
al is jy hier
al is jy ver
bly ek naby jou
en ek wonder hoe weet jy
dat ek ook kan seerkry
ek voel jou lyf
voel jou hart
wat hier teen my klop
dis in jou oë
dis net jy vir wie ek sal baklei
jy ken my verlede
maar dit staan in die hede
en as ek val sal ek weer kan opstaan
sal ek weer kan aangaan
in 'n wêreld sonder jou
want jy is alles wat
wat vir my saakmaak
dis jy wat my hart raak
en ek belowe jou
ek sê dit nou
saam met jou wil ek oud raak
Overall Meaning
The lyrics to Jay's song "As Ek Val" (When I Fall) express the singer's deep feelings of closeness and attachment to his partner. He notes that with every step she takes, he is right beside her, whether she is here or far away. He marvels at how she seems to instinctively know when he is hurting, offering comfort and solace through her physical presence and the beating of her heart. Even when the singer's past threatens to intrude on the present, his partner provides a sense of safety and security that allows him to face the future with renewed confidence. In the chorus, he promises that even if he falls, he will always be able to get up again, as long as he has her by his side. He declares his love and commitment, vowing to grow old with her.
The tenderness and vulnerability expressed in these lyrics are enhanced by the lilting melody and gentle guitar accompaniment. Jay's clear, plaintive voice brings out the emotional depth of the lyrics, which resonate with anyone who has experienced the joys and challenges of a committed relationship. The song's title, "As Ek Val," suggests that falling is a natural part of life, but that it is possible to rise up again with love and support. Ultimately, the song offers a message of hope and unity, reminding listeners of the power of love to sustain and inspire.

Line by Line Meaning
Met elke tree
With every step
wat jy gee
that you give,
is ek reg lanks jou
I am right next to you
al is jy hier
even though you're here,
al is jy ver
even though you're far,
bly ek naby jou
I stay close to you
en ek wonder hoe weet jy
and I wonder how you know
dat ek ook kan seerkry
that I too can hurt,
ek voel jou lyf
I feel your body,
voel jou hart
feel your heart
wat hier teen my klop
beating against mine,
dis in jou oë
It's in your eyes,
dis net jy vir wie ek sal baklei
It's only you for whom I will fight
jy ken my verlede
You know my past
maar dit staan in die hede
But that stays in the past
en as ek val sal ek weer kan opstaan
And if I fall, I will rise again
sal ek weer kan aangaan
I will be able to move on
in 'n wêreld sonder jou
In a world without you
want jy is alles wat
Because you are everything
wat vir my saakmaak
That matters to me
dis jy wat my hart raak
It's you who touches my heart
en ek belowe jou
And I promise you
ek sê dit nou
I say this now
saam met jou wil ek oud raak
That I want to grow old with you
Contributed by Chloe P. Suggest a correction in the comments below.
To comment on or correct specific content,
highlight it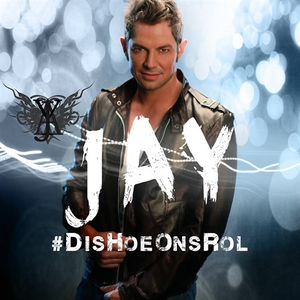 'Jay' can refer to one of eight artists:

1. Young, beast rapper from the Killadelphia suburbs, Jay C

2. Jay is a Rapper from Stuttgart (Germany)!

3. Jay is a famous Taiwanese RNB singer.

4. Jay (birthname Jørn) is a rapper from the northern parts of Norway, also a part of the rap-group Nordlys, in which he write and perform songs along with his friends Morex (birthname Espen) and Ron, the producer of their group.

5. The character Jay from the View Askewniverse played by Jason Mewes in movies such as Dogma, Clerks, Mallrats etc
Read Full Bio
'Jay' can refer to one of eight artists:

1. Young, beast rapper from the Killadelphia suburbs, Jay C

2. Jay is a Rapper from Stuttgart (Germany)!

3. Jay is a famous Taiwanese RNB singer.

4. Jay (birthname Jørn) is a rapper from the northern parts of Norway, also a part of the rap-group Nordlys, in which he write and perform songs along with his friends Morex (birthname Espen) and Ron, the producer of their group.

5. The character Jay from the View Askewniverse played by Jason Mewes in movies such as Dogma, Clerks, Mallrats etc

6. The host of the podcast, 'Cry Baby Emo Kids'

7. Jay is a rapper from Bulgaria.

8. Jay is a rap/reggae singer-songwriter from Cape Verde - Jay Miolinho (José Moreira)

9. Jay is a popular South African Afrikaans pop star
Genre not found
Artist not found
Album not found
Search results not found
Song not found