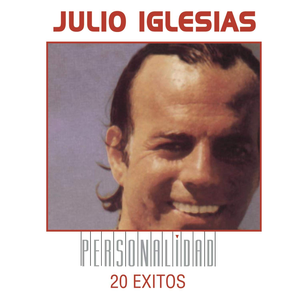 Julio José Iglesias de la Cueva (born September 23, 1943 in Madrid, Spain) is S…
Read Full Bio ↴
Julio José Iglesias de la Cueva (born September 23, 1943 in Madrid, Spain) is Spain's best selling singer and the best-selling Spanish language singer of all time. Julio Iglesias has sold over 250,000,000 records in different languages and released 77 records. He thus far has performed approximately 5,000 concerts during his career.

Early career to 1978
Julio was the son of Julio Iglesias Sr, a doctor. He was a professional football player with Real Madrid, where he played as goalkeeper. During this time, he also enrolled in law school. He had an accident that dashed his hopes of becoming a great soccer player, but during his period in bed, he started to compose songs. He received a certificate as a lawyer from Cambridge University a little later.

In 1968, he won the Benidorm International Song Festival, a songwriter's contest in Spain, and signed a contract with a Columbia Records Latin music label, Discos Columbia. He represented Spain at the Eurovision Song Contest in 1970, finishing fourth behind Northern Irish singer Dana Scallon, and the Welsh singer Mary Hopkin. His entry was the song "Gwendolyne" which was his first recording. During the 1970s he married the Spanish-mestiza Philippine socialite Isabel Preysler with whom he had three children: Chabeli Iglesias, who has been a show host and is now a news reporter in Washington D.C., Enrique Iglesias, now a world-famous singer who followed in his father's footsteps, and Julio José Iglesias, a model who has released two CDs. It was during the 1970s that the Iglesias family's private life became very public, with Julio and the rest of the family frequently featured on the covers of various international magazines.

Peak of success 1978-1990
In 1978, he signed a contract for CBS International, adding English, French, Portuguese, German and Italian to his language repertoire. He had his first hit in English with a cover of "Begin the Beguine" and released a collection Julio in 1983 building his reputation.

In 1984, he released the smash hit album 1100 Bel Air Place, which gave him considerable fame in English-language markets. The album sold three million albums in the US alone, with the first single "To All The Girls I've Loved Before", a duet with Willie Nelson reaching the top five on the Billboard Hot 100. The album also featured "All of You", a hit duet with Diana Ross.

In 1985, his father was kidnapped but found well and alive after two agonizing weeks. This prompted Julio, who had already divorced Preysler, to move his family to Miami, Florida, where they settled in a mansion at Miami Beach. That year he also recorded duets with Diana Ross and Willie Nelson. It was rumored in 1986 that Julio, perhaps seeking to get away from all the fame and hoopla for one week, was found walking around the streets of Cayey, Puerto Rico, after disappearing for seven days. Julio feels there is a deep connection between him and Puerto Rico because one of his grandmothers was Puerto Rican.

Iglesias won a Grammy Award for Best Latin Pop Album in the 1988 Grammy Awards for the album Un Hombre Solo ("A Single Man"). He also recorded a duet with Stevie Wonder on "My Love" from his Non Stop album which achieved crossover success in 1988.

Stories of Julio's expensive private jets, boats, and houses became legendary during that decade, and his world tours took him to many countries and continents around the world performing in many sold out concerts among the vast women populations.

Career 1990-today
In the 1990s, Julio went back to his Spanish music roots, and in 1996, he released a CD nicknamed Tango. He is slowly stepping out of the limelight now and enjoying his son Enrique's popularity, together with his long-time companion Miranda and their 2 sons Miguel Alejandro (September 7, 1997), Rodrigo (April 3, 1999) and twin daughters Cristina and Victoria (May 1, 2001). Julio is very amenable to signing autographs, although he can be a little difficult to reach sometimes, due to his and his family's security detail, which they have had since the 1985 kidnapping of Julio's father.

Iglesias returned to the headlines in October, 2003, when he went to Argentina and kissed show host Susana Gimenez three times during a live telecast of her show.

2003 saw the release of the Spanish album "Divorcio." (Divorce) In its first day of sales, "Divorcio" sold a record 350,000 copies in Spain; and quickly reached the #1 spot on the charts in Spain, Portugal, France,Italy, and Russia.

The remainder of 2003 and early 2004 featured a mega 10 month world tour; which took Iglesias, fuled with the success of "Divorcio" from Europe and Asia to The United States, South America, and Africa. More than half the shows on the tour sold out within days of going on sale, showing that fans still adore Julio.

In December of 2004, Miranda and Julio recorded a duet of the Christmas song Silent Night. The song, which was not released also included a voice message from Julio, Miranda, and their 4 young children. The song was released online through the singer's web page, and was a holiday gift from the Iglesias' to their fans around the world.

Julio has made important investments in the Dominican Republic's eastern town of Punta Cana, a major tourist destination, where he spends most of the year when he is not on tour.

Julio, Jr. has a half-brother who is 60 years younger than him. Julio's father, Julio Sr. had a child at 89 called Jaime. The birth came after a 17-year romance with Ronna, which culminated in them walking down the aisle in 2001. His wife underwent fertility treatment in order to conceive first time around and medical science is believed to have played a role in her latest pregnancy too. After little Jaime made his debut in 2004, Julio Sr. rejected suggestions Ronna was the driving force behind their decision to start a family. "At my age, a child is marvellous," he declared. "If people say I just did it for my wife, I don't take it as an insult, but the truth is I wanted it just as much as her." Julio Iglesias's father died just days after he announced he was to become a father for the fourth time at the age of 90. Julio Sr. died after suffering a cardiac arrest at his home in Madrid. Julio Sr. confirmed that his wife of four years, Ronna Kneit, was expecting their second child together. He said he wanted his 42-year-old partner to have something to remember him by. "My wife wanted it and I owed it to her," he explained. "It was an act of generosity towards her. I leave her part of my blood, of my life. I need her so much that I said to her 'Here, this is what you wanted for when I am gone'."

Currently, Julio is in the studio recording a new English Album titled "Romantic Classics" which is due out in September of 2006. Romantic Classics is a series of the greatest love songs in American culture, and features the hits "I want to know what love is", "Careless Whisper", and "Right Here Waiting" all major hits of the past 20 years. A series of promotional events, followed by a world tour will help promote the album after its release.

The singer's web page [1] is currently under construction, and will feature information from "Romantic Classics" when it is updated later this year.

Discography
This list contains all albums of original material plus notable collections.

Gwendolyne (1970)
Julio Iglesias (1972)
Un Canto a Galicia (1973)
A Flor de Piel (1974)
A Mexico (1974)
El Amor (1975)
En El Olympia (1976) recorded live at the Paris Olympia
Si Mi Lasci (1976)
Yo Canto (1977)
A Mis 33 Anos (1977)
Sono Un Pirata, Sono Un Signore (1978)
Soy (1978)
The 24 Greatest Songs (1978)
A Vous Les Femmes (1979)
Aimer La Vie (1979)
America (1979)
Emociones (1979)
Innamorarsi Alla Mia Eta (1979)
Hey! (1980)
Sentimental (1980)
Fidele (1981)
Zartlichkeiten (1981)
From A Child To A Woman (1981)
Minhas Cancoes Prefidas (1981)
Moments (1982) also Momento or Momenti
Por Una Mujer (1982)
In Concert (1983)
Pelo Amor di Uma Mulher (1983)
Julio (1983)
1100 Bel Air Place (1984)
Libra (1985)
Un Hombre Solo (1987)
Tutto L'Amore Che Ti Manca (1987)
Non Stop (1988)
Latinamente (1989)
Raices (1989)
Starry Night (1990)
Ein Weihnachtsabend Mit Julio Iglesias (1992)
Calor (1992)
Crazy (1994)
La Carretera (1995)
Tango (1996)
My Life: The Greatest Hits (1998)
Noche de Cuatro Lunas (2000)
Una Donna Puo Cambiar la Vita (2001)
Ao Meu Brasil (2001)
Personalidad: 20 Exitos (2002)
Divorcio (2003)
Love Songs (2004)
l'homme que je suis (2005)
Romantic Classics (To Be Released in September of 2006)
Quelque Chose de France (2007)
Julio Iglesias 1 (2011) - He is starting with this new world tour.


Extracted from Wikipedia:

http://en.wikipedia.org/wiki/Julio_Iglesias
Jump to: Overall Meaning ↴ Interesting Facts ↴ Line by Line Meaning ↴
Como noche como sueños
Son los ojos negros
De mi amor Manuela
Como espiga en primavera
Como luna llena es mi amor Manuela
Sus palabras cariñosas
La mirada inquieta
De mi amor Manuela
Tiene mis sentidos presos
Y todos mis sueños son para Manuela
Desde que llegó a mi vida
Desde aquella tarde que encontré a Manuela
Soy dichoso como nadie
Porque cada día me espera
La dulzura de sus besos
Y ese amor inmenso que me da Manuela
Cada da, cada instante
Mi ilusión más grande
Es ver a Manuela
Sólo vivo, sólo pienso
Sólo es que existo por mi amor Manuela
Desde que llegó a mi vida
Desde aquél instante que encontré a Manuela
Soy dichoso como nadie
Porque cada día me espera
La dulzura de sus besos
Y ese amor inmenso que me da Manuela
Soy dichoso como nadie
Porque cada día me espera
La dulzura de sus besos
Y ese amor inmenso que me da Manuela
(Manuela)
Overall Meaning
The lyrics of Julio Iglesias's song "Manuela" express the immense love and devotion that the singer has for a woman named Manuela. The first verse describes her eyes as being like the night and dreams, and her presence as being like a springtime spica or a full moon. The second verse talks about how her loving words and restless gaze have captured the singer's senses and made all of his dreams and thoughts devoted to her. He feels incredibly fortunate to have her in his life, and each day he looks forward to the sweetness of her kisses and the immense love that she gives him.
Overall, the song is a portrayal of a deep and passionate love that has consumed every aspect of the singer's life. It speaks to the intense emotions and devotion that can arise when one finds the love of their life. The repetitive chorus emphasizes this devotion, with the singer saying that he is as happy as nobody else because of the love that Manuela gives him.
Interesting Facts about "Manuela":
Interesting Facts
Note: This section uses generative AI, which can be inaccurate.


Line by Line Meaning
Como noche como sueños
My love Manuela's eyes are like night and dreams
Son los ojos negros
Her eyes are dark
De mi amor Manuela
She is my love Manuela
Como espiga en primavera
She is like a spring wheat
Como luna llena es mi amor Manuela
My love Manuela is like a full moon
Sus palabras cariñosas
Her loving words
La mirada inquieta
Her restless gaze
De mi amor Manuela
My love Manuela's
Tiene mis sentidos presos
Have captured my senses
Y todos mis sueños son para Manuela
All my dreams are for Manuela
Desde que llegó a mi vida
Since she came into my life
Desde aquella tarde que encontré a Manuela
Since the afternoon I met Manuela
Soy dichoso como nadie
I am happier than anyone
Porque cada día me espera
Because every day she waits for me
La dulzura de sus besos
The sweetness of her kisses
Y ese amor inmenso que me da Manuela
And the immense love that Manuela gives me
Cada da, cada instante
Every day, every moment
Mi ilusión más grande
My greatest wish
Es ver a Manuela
Is to see Manuela
Sólo vivo, sólo pienso
I live only to think
Sólo es que existo por mi amor Manuela
My existence is solely for my love Manuela
Soy dichoso como nadie
I am happier than anyone
Porque cada día me espera
Because every day she waits for me
La dulzura de sus besos
The sweetness of her kisses
Y ese amor inmenso que me da Manuela
And the immense love that Manuela gives me
Soy dichoso como nadie
I am happier than anyone
Porque cada día me espera
Because every day she waits for me
La dulzura de sus besos
The sweetness of her kisses
Y ese amor inmenso que me da Manuela
And the immense love that Manuela gives me
(Manuela)
Manuela
Lyrics © BMG Rights Management, CONCORD MUSIC PUBLISHING LLC
Written by: Tony Allen, Cheick Seck, Erykah Badu, Michael Balzary, Damon Albarn

Lyrics Licensed & Provided by LyricFind
To comment on or correct specific content,
highlight it
Genre not found
Artist not found
Album not found
Search results not found
Song not found