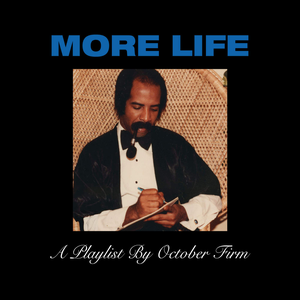 More Life (also known as More Life: A Playlist by October Firm) is the debut playlist by Canadian recording artist Drake. It was released on March 18, 2017, by Young Money Entertainment, Cash Money Records, and Republic Records.The playlist was promoted by the single "Fake Love", which was released on October 29, 2016. Production of More Life was handled by a variety of high-profile record producers, including 40, Frank Dukes, Boi-1da, Murda Beatz, T-Minus, Nineteen85, and Kanye West, among others. Multiple guest vocalists also appear, including Young Thug, Giggs, Quavo, Travis Scott, 2 Chainz, Kanye West, and PartyNextDoor. More Life
Read Full Bio
More Life (also known as More Life: A Playlist by October Firm) is the debut playlist by Canadian recording artist Drake. It was released on March 18, 2017, by Young Money Entertainment, Cash Money Records, and Republic Records.The playlist was promoted by the single "Fake Love", which was released on October 29, 2016.

Production of More Life was handled by a variety of high-profile record producers, including 40, Frank Dukes, Boi-1da, Murda Beatz, T-Minus, Nineteen85, and Kanye West, among others. Multiple guest vocalists also appear, including Young Thug, Giggs, Quavo, Travis Scott, 2 Chainz, Kanye West, and PartyNextDoor. More Life features a broad range of genres, including elements of hip hop, R&B, grime, dancehall, and afrobeat.
Genre not found
Artist not found
Album not found
Search results not found
Song not found
Free Smoke
Drake Lyrics
Is it the strength of your feelings
Overthrowing your pain
You'll see new heights you'll be reaching
And is it today that you will find your new release
And in your wake, ripple your sweet fate
(And more chune for your headtop
So watch how you speak on my name, you know?)
Yeah
I couldn't get a bill paid
You couldn't buy the real thing
I was staying up at your place
Trying to figure out the whole thing
I saw people doing things
Almost gave up on the music thing
But we all so spoiled now
More life, more everything
Must have never had your phone tapped
All that yapping on the phone shit
You must really love the road life
All that never coming home shit
Free smoke, free smoke aye!
Free smoke, free smoke aye!
Free smoke, free smoke aye!
Dom Rosé toast
Hidden Hills where I post
I start my day slow
Silk pajamas when I wake though
Miraval to the face though
I drunk text J-Lo
Old number, so it bounce back
Boi-1da got the bounce back
Used to get paid for shows and
Front door money, five, ten, twenty
Hand sanitize after you count that
Me and Gibbo was about that
Eating Applebee's and Outback
Southwest, no first class
Hilton rooms, gotta double up
Writing our name on a double cup
We ain't even have a tour bus
Girls wouldn't even think of recording me
I fall asleep in sororities
I had some different priorities
Weezy had all the authority
Women I like was ignoring me
Now they like, aren't you adorable?
I know the question rhetorical
I took the team play from Oracle
Mama never used to cook much
Used to chef KD
Now me and Chef KD
Bet on shots for twenty G's
I brought the game to its knees
I make too much these days to ever say poor me
Where you at, I never see you
Free smoke, free smoke aye!
Free smoke, free smoke aye!
Free smoke, free smoke aye!
Niggas moves so waste
Please come outside the house and show yourself
So I can say it to your face
It's bound to happen, man, it's gotta happen now
So let's just get it out the way
Lot of niggas goin' bad on me
Please, one at a time
I wanna move to Dubai
So I don't never have to kick it with none of you guys
I didn't listen to Hov on that old song
When he told me pay it no mind
I get more satisfaction outta goin' at your head
And seein' all of you die
And I seen a lot of you die
Free smoke, free smoke aye!
Free smoke, free smoke aye!
Free smoke, free smoke aye!
Hidden Hills where I post, yeah
'Ye already know, yeah
I'm the troublemaker in the neighborhood
Far as troublemakin' goes, yeah
House party up the road, yeah
I'm not Kid 'n Play
This kid doesn't play about the flow, yeah
Y'all keep playin' with your nose, yeah
You get high and do the most, yeah
How you let the kid fightin'
Ghost-writin' rumors turn you to a ghost?
Oh, you niggas got jokes
Free shmoke, free shmoke
Baka
Yeah, we outchea
Ya dun know, eh?
It's a OVO ting, eh?
Ya dun know, eh?
It's a East Side ting, eh?
Ya dun know, eh?
More life
Lyrics © DistroKid, WARP MUSIC LIMITED, Universal Music Publishing Group, Sony/ATV Music Publishing LLC, Downtown Music Publishing, Warner Chappell Music, Inc.
Written by: Allen Ritter, Aubrey Drake Graham, Bryant Antoine, Daniel Sewell, Marvin Bernard, Matthew Jehu Samuels, Naomi Grace Saalfield, Paul Anthony Bender, Perrin Moss, Simon George Mavin

Lyrics Licensed & Provided by LyricFind
To comment on specific lyrics,
highlight them