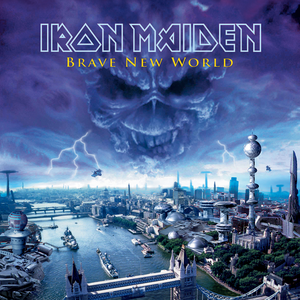 Brave New World is the twelfth studio album by Iron Maiden released on 30 May 2000. It marked the return of longtime lead singer Bruce Dickinson and guitarist Adrian Smith to the band. It was also the band's first studio recording with three guitar players, as Janick Gers stayed with the band after Smith's return. The album art and title song are references to the novel of the same name written by Aldous Huxley. The upper half of the album art was done by Derek Riggs, and is the last new artwork done by Riggs to be used on an
Read Full Bio
Brave New World is the twelfth studio album by Iron Maiden released on 30 May 2000. It marked the return of longtime lead singer Bruce Dickinson and guitarist Adrian Smith to the band. It was also the band's first studio recording with three guitar players, as Janick Gers stayed with the band after Smith's return.

The album art and title song are references to the novel of the same name written by Aldous Huxley. The upper half of the album art was done by Derek Riggs, and is the last new artwork done by Riggs to be used on an Iron Maiden release.

The songs "The Wicker Man" and "Out of the Silent Planet" were both released as singles. "The Wicker Man" was released in the U.S as a promo single with extra vocals in the chorus.

"The Nomad", "Dream of Mirrors", and "The Mercenary" were originally written for Virtual XI, according to Adrian Smith in an interview. He said there was a fourth song, but he didn't know which one it was and that Steve Harris did not remember either. Former singer Blaze Bayley also co-wrote "Dream Of Mirrors", but wasn't credited.
Genre not found
Artist not found
Album not found
Search results not found
Song not found
Hand of fate is moving and the finger points to you
He knocks you to your feet and so what are you gonna do?
Your tongue has frozen now you've got something to say
The piper at the gates of dawn is calling you his way
You watch the world exploding every single night
Dancing in the sun a newborn in the light
Say goodbye to gravity and say goodbye to death
Hello to eternity and live for every breath
Your time will come
Your time will come
Your time will come
Your time will come
The ferryman wants his money, you ain't going to give it back
He can push his own boat as you set up off the track
Nothing you can contemplate will ever be the same
Every second is a new spark, sets the universe aflame
You watch the world exploding every single night
Dancing in the sun a newborn in the light
Brothers and their fathers joining hands and make a chain
The shadow of the Wicker Man is rising up again
Your time will come
Your time will come
Your time will come
Your time will come
Your time will come
Your time will come
Your time will come
Your time will come
Woah-oh, oh-oh
Woah-oh, oh-oh
Woah-oh, oh-oh
Woah-oh, oh-oh
Woah-oh, oh-oh
Woah-oh, oh-oh
Woah-oh, oh-oh
Woah-oh, oh-oh
Woah-oh, oh-oh
Woah-oh, oh-oh
Woah-oh, oh-oh
Woah-oh, oh-oh
Woah-oh, oh-oh
Woah-oh, oh-oh
Woah-oh, oh-oh
Woah-oh, oh-oh
Lyrics © BMG Rights Management, Universal Music Publishing Group
Written by: Bruce Dickinson, Adrian Smith, Steve Harris

Lyrics Licensed & Provided by LyricFind
To comment on specific lyrics,
highlight them