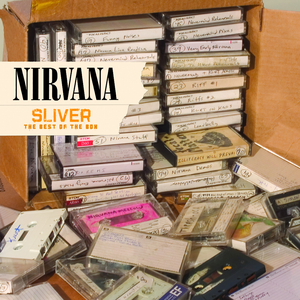 Sliver: The Best of the Box
Sliver: The Best of the Box was the fourth Nirvana album to be released following the death of lead singer and guitarist Kurt Cobain in April 1994. It contains 19 tracks pulled from the band's 2004 box set, With the Lights Out, as well as three previously unreleased recordings: "Spank Thru," from the 1985 Fecal Matter demo, a 1990 studio recording of "Sappy," and a 1991 boombox demo of "Come as You Are." The Fecal Matter version of "Spank Thru" is arguably the most historically significant of the previously unreleased tracks, since it was apparently the recording which convinced Nirvana
Read Full Bio
Sliver: The Best of the Box was the fourth Nirvana album to be released following the death of lead singer and guitarist Kurt Cobain in April 1994. It contains 19 tracks pulled from the band's 2004 box set, With the Lights Out, as well as three previously unreleased recordings: "Spank Thru," from the 1985 Fecal Matter demo, a 1990 studio recording of "Sappy," and a 1991 boombox demo of "Come as You Are." The Fecal Matter version of "Spank Thru" is arguably the most historically significant of the previously unreleased tracks, since it was apparently the recording which convinced Nirvana bassist Krist Novoselic to form a band with Cobain. It was also the first song from this demo - long considered to be the "Holy Grail" of unheard Nirvana/Cobain material - to be heard by fans in its entirety.
Genre not found
Artist not found
Album not found
Search results not found
Song not found
Spank Thru
Nirvana Lyrics
This song is for lovers out there
And the little light in the trees
And all the flowers have gingivitis
And the birds fly happily
We're together once again my love
I need you back oh baby baby
I can't explain just why we lost it from the start
Living without you girl you'll only break my heart...
I can feel it I can hold it I can rub it I can shape it
I can mold it I can cut it I can taste it I can spank it
Beat it
Masturbate it
I been looking for days now
Always hearing the same ol' city boy
Won't you spank through?
I can make you do things you won't think you ever could
Lyrics © BMG Rights Management
Written by: KURT COBAIN

Lyrics Licensed & Provided by LyricFind
To comment on specific lyrics,
highlight them