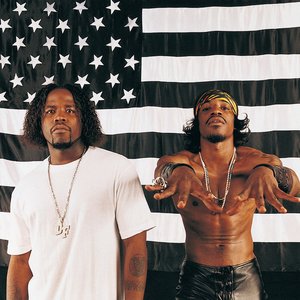 Stankonia is the fourth studio album by American hip hop duo OutKast, released October 31, 2000 on La Face Records. The album debuted at number 2 on the U.S. Billboard 200 chart, selling over 530,000 copies the first week. Stankonia received universal acclaim from most music critics, based on an aggregate score of 95/100 from Metacritic. It received rave reviews from publications such as USA Today and the Los Angeles Times. It was also voted as the best album of the year in The Village Voice Pazz & Jop critics' poll. In 2003, the album was ranked number 359 on
Read Full Bio
Stankonia is the fourth studio album by American hip hop duo OutKast, released October 31, 2000 on La Face Records. The album debuted at number 2 on the U.S. Billboard 200 chart, selling over 530,000 copies the first week. Stankonia received universal acclaim from most music critics, based on an aggregate score of 95/100 from Metacritic. It received rave reviews from publications such as USA Today and the Los Angeles Times. It was also voted as the best album of the year in The Village Voice Pazz & Jop critics' poll. In 2003, the album was ranked number 359 on Rolling Stone magazine's list of the 500 greatest albums of all time.

Stank, a commonly used word on the album, is derived from a southern U.S. pronunciation of stink, the original meaning of the word funk. George Clinton applied the term stank to the more carnal, hedonistic things in life, including funk music. "Stankonia" is the name of a fictional land at "the center of the earth, seven light years below sea level", which is "the place from which all 'funky thangs' come", according to the album's opening lyrics. The lyrical content is divided between verses from Big Boi and André 3000. The artists describe themselves as "a player and a poet", respectively, and this is reflected in the lyrics; Big Boi tends to deal with standard gangsta fare (such as guns, hoes, and pimping on songs such as "Snappin & Trappin" and "We Luv Deez Hoez") while André 3000 talks about other elements of "stanking", using metaphors about elephants, ski slopes, and the four humours.

Part of the reason for Stankonia's acclaim and popularity was the diversity of its musical influences, which led to comparisons to Prince. It incorporates many musical genres to create a unique-sounding whole. For example, the album opens with Indian tablas and harmonium, then launching into a heavy metal-style electric guitar riff on "Gasoline Dreams" before turning to slick P-funk on the second song (fourth track overall) "So Fresh, So Clean". The album also incorporates influences from gospel, ("Toilet Tisha"), samba ("Humble Mumble") and drum and bass ("B.O.B."). This stylistic diversity was tied together by the pseudo-psychedelic production, emphasizing trippy synthesizers, spacey sound effects, techno-tinged percussion, and weird 70s-style psychedelic funk, updated in a more contemporary hip-hop context. The album's cover is an homage to Sly & the Family Stone's There's a Riot Goin' On.

Its limited edition artwork features a computer-generated image of a subset of the Mandelbrot set, a fractal.

Robert Christgau of The Village Voice gave it an A rating and described Stankonia as "comic and expansive P-Funk". Allmusic gave the album 5 out of 5 stars and wrote "given the variety of moods, it helps that the album is broken up by brief, usually humorous interludes, which serve as a sort of reset button. It takes a few listens to pull everything together, but given the immense scope, it's striking how few weak tracks there are". Entertainment Weekly's Ken Tucker wrote that "Stankonia reeks of artful ambition rendered with impeccable skill" and gave the album an A rating. Stankonia places as the 4th best ranked album of this century on Metacritic with a score of 95, indicating universal acclaim.

In 2006, Time magazine named Stankonia as one of the 100 best albums of all time. In 2009, Pitchfork Media ranked Stankonia #13 on its list of the top 200 albums of the 2000s, and Rhapsody ranked it at #2 on its "100 Best Albums of the Decade" list. Rhapsody also ranked the album #6 on its "Hip-Hop's Best Albums of the Decade" list. Entertainment Weekly put it on its end-of-the-decade "best-of" list, saying, "With hummable hits ('Ms. Jackson') and out-there experiments ('B.O.B.'), the rap duo gave us all a visa to the funky if fictional land of Stankonia in 2000."
Genre not found
Artist not found
Album not found
Search results not found
Song not found
(This is a test)
(Speakerboxxx)
(Speaker, speaker, speakerboxxx)
(Speaker, speaker, speaker)
(Speakerboxxx)
(Speaker, speaker, speakerboxxx)
(Speakerboxxx)
(Speaker, speakerboxxx)
(Speaker, speaker, speakerboxxx)
(Speaker, speaker, speakerboxxx)
(Speaker, speaker, speakerboxxx)
(Speaker, speaker, speakerboxxx)
(Speakerboxxx)
(Speaker, speaker, speaker)
(Speakerboxxx)
(Speaker, speaker, speaker, speakerboxxx)
(Speakerboxxx)
(Speaker, speaker, speaker)
(Speakerboxxx)
(Speaker, speaker, speaker, speakerboxxx)
(Speakerboxxx, speakerboxxx)
(Speakerboxxx)
(Speaker, speaker, speaker)
(Speaker, speaker, speakerboxxx)
(Speakerboxxx)
(Speakerboxxx)
(Speaker, speaker, speaker speakerboxxx)
(This is a test, hoo) speakerboxx
Lyrics © BMG Rights Management
Written by: Andre Benjamin, Antwan Patton

Lyrics Licensed & Provided by LyricFind
To comment on specific lyrics,
highlight them