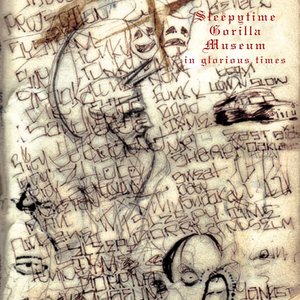 Sleepytime Gorilla Museum formed in 1999 in Oakland, California, United States. The band was founded by Nils Frykdahl (guitars, flutes, vocals) and Dan Rathbun (bass, log, trombone, lute, vocals) of the band Idiot Flesh, with Carla Kihlstedt (violins, percussion guitar, autoharp, organ, bulbul, vocals) of Tin Hat Trio, 2 Foot Yard and The Book of Knots, after the three worked together in Charming Hostess. Matthias Bossi (drums, glockenspiel, xylophone, vocals) and Michael Mellender (percussion, assorted melodic instruments, vocals) both joined in 2004. Previous members include percussionist Moe! Staiano, founding drummer David Shamrock, and drummer/manager Frank Grau. The band tour the
Read Full Bio
Sleepytime Gorilla Museum formed in 1999 in Oakland, California, United States. The band was founded by Nils Frykdahl (guitars, flutes, vocals) and Dan Rathbun (bass, log, trombone, lute, vocals) of the band Idiot Flesh, with Carla Kihlstedt (violins, percussion guitar, autoharp, organ, bulbul, vocals) of Tin Hat Trio, 2 Foot Yard and The Book of Knots, after the three worked together in Charming Hostess. Matthias Bossi (drums, glockenspiel, xylophone, vocals) and Michael Mellender (percussion, assorted melodic instruments, vocals) both joined in 2004. Previous members include percussionist Moe! Staiano, founding drummer David Shamrock, and drummer/manager Frank Grau.

The band tour the U.S. frequently in a renovated vintage Green Tortoise bus, and their live performances have featured puppet shows, pseudo-scientific scholarly presentations, and performances by members of the Butoh group inkBoat. SGM's music has been categorized as anything from avant-prog to art rock to experimental metal to RIO (Rock In Opposition). Many reviewers have remarked that the group is altogether unclassifiable.

The band uses many homemade devices as instruments, such as the viking row-boat and the spring-nail guitar. Rathbun plays a stringed bass instrument of his own construction called The Log which uses piano strings and is perhaps 7 feet long; it is played with two sticks: one in the left hand generally used as a fret, another in the right hand striking the strings. Mellender's percussion instruments consist of restaurant kitchen equipment, trash can lids, and other "found" metal objects, in addition to traditional percussion instruments.

They've announced their imminent end, as their last concerts will be held early April around California. But 2011 will still see a new album, a movie and a live DVD.
Genre not found
Artist not found
Album not found
Search results not found
Song not found
All the desperate people in this town
Are coming out tonight
They'll be here soon
They want to be here with us in our glorious times
And when they start to laugh, we'll laugh too
But when they start to cry, they'll ruin it for everyone
We'll ask them to leave
And they'll pull out their knives and kill us all
They're here now
Close the gate
Lock the door
Bring the lights down
Put the light s out
Close the bar
Maybe they'll give up and go next door
Lets pretend we're gone
Pretend we're not here
Let's pretend we're gone
I'm too strong now I can't lose
I try but I can't lose
I stole everything from you
I stole your disaster from you
I can't give it back
Este recuerdo guarda su alma
Su alma guarda esta tumba
Dios guarda su cuerpo
Su cuerpo guarda su aliento
Behold the breath of the dragon
Mira el brillo del cuchillo
All the desperate people in this town
Are coming out tonight
They'll be here soon
Contributed by Nora J. Suggest a correction in the comments below.
To comment on specific lyrics,
highlight them