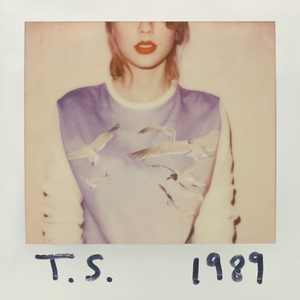 "1989" is the fifth studio album by Taylor Swift. It was released on October 27, 2014, by Big Machine Records. Following the release of her genre-spanning fourth studio album Red, noted for its pop hooks and electronic accents, the media questioned the validity of Swift's status as a country artist. Inspired by 1980s synth-pop to create a record that shifted her sound and image from country to mainstream pop, Swift enlisted Max Martin as co-executive producer, and titled her fifth album after her birth year as a symbolic rebirth of her artistry. The album's synth-pop sound is characterized by heavy
Read Full Bio
"1989" is the fifth studio album by Taylor Swift. It was released on October 27, 2014, by Big Machine Records. Following the release of her genre-spanning fourth studio album Red, noted for its pop hooks and electronic accents, the media questioned the validity of Swift's status as a country artist. Inspired by 1980s synth-pop to create a record that shifted her sound and image from country to mainstream pop, Swift enlisted Max Martin as co-executive producer, and titled her fifth album after her birth year as a symbolic rebirth of her artistry.

The album's synth-pop sound is characterized by heavy synthesizers, programmed drums, and processed backing vocals. Swift wrote the songs inspired by her personal relationships, which had been a trademark of her songwriting. The songs on "1989" express lighthearted perspectives, departing from her previous hostile attitude towards failed romance. Swift and Big Machine promoted the album extensively through product endorsements, television, radio appearances and social media. They pulled "1989" from free streaming services such as Spotify, prompting an industry discourse on the impact of streaming on music sales.

After the album's release, Swift embarked on the 1989 World Tour, which was the highest-grossing tour of 2015. The album was supported by seven singles, including three US Billboard Hot 100 number ones: "Shake It Off", "Blank Space", and "Bad Blood". Critics praised Swift's songwriting in 1989 for offering emotional engagement that they found uncommon in the mainstream pop scene. Meanwhile, the synth-pop production raised questions regarding Swift's authenticity as a lyricist. The album appeared on several publications' lists of the best albums of the 2010s and featured in Rolling Stone's 2020 revision of their 500 Greatest Albums of All Time. At the 58th Grammy Awards in 2016, "1989" won Album of the Year and Best Pop Vocal Album, making Swift the first female solo artist to win Album of the Year twice.

"1989" was a commercial success. In the US, Swift became the first artist to have three albums each sell over one million copies within their first week of release. The album spent 11 weeks atop the Billboard 200 and received a ninefold platinum certification from the Recording Industry Association of America (RIAA). It also earned multi-platinum certifications in Australia, Canada, and the UK, and has sold over 10 million pure copies worldwide.
Genre not found
Artist not found
Album not found
Search results not found
Song not found
Welcome to New York
Taylor Swift Lyrics
Walkin' through a crowd, the village is aglow
Kaleidoscope of loud heartbeats under coats
Everybody here wanted somethin' more
Searchin' for a sound we hadn't heard before
And it said
Welcome to New York, it's been waitin' for you
Welcome to New York, welcome to New York
Welcome to New York, it's been waitin' for you
Welcome to New York, welcome to New York
It's a new soundtrack, I could dance to this beat, beat forevermore
The lights are so bright, but they never blind me, me
Welcome to New York, it's been waitin' for you
Welcome to New York, welcome to New York
When we first dropped our bags on apartment floors
Took our broken hearts, put them in a drawer
Everybody here was someone else before
And you can want who you want
Boys and boys and girls and girls
Welcome to New York, it's been waitin' for you
Welcome to New York, welcome to New York
Welcome to New York, it's been waitin' for you
Welcome to New York, welcome to New York
It's a new soundtrack, I could dance to this beat, beat forevermore
The lights are so bright, but they never blind me, me
Welcome to New York (New York), it's been waitin' for you
Welcome to New York, welcome to New York
Like any great love, it keeps you guessing
Like any real love, it's ever-changing
Like any true love, it drives you crazy
But you know you wouldn't change anything, anything, anything
Welcome to New York, it's been waitin' for you
Welcome to New York, welcome to New York
Welcome to New York, it's been waitin' for you
Welcome to New York, welcome to New York
It's a new soundtrack, I could dance to this beat
The lights are so bright, but they never blind me
Welcome to New York (new soundtrack), it's been waitin' for you
Welcome to New York (the lights are so bright but they never blind me)
Welcome to New York (so bright, they never blind me)
Welcome to New York
Welcome to New York
Lyrics © Universal Music Publishing Group, CONCORD MUSIC PUBLISHING LLC, Sony/ATV Music Publishing LLC, Downtown Music Publishing
Written by: Ryan B. Tedder, Taylor Alison Swift

Lyrics Licensed & Provided by LyricFind
To comment on specific lyrics,
highlight them