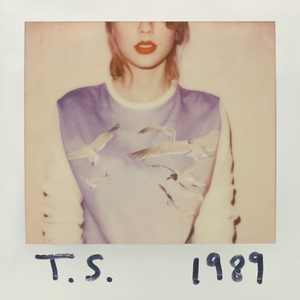 1989 is the fifth studio album by American singer-songwriter Taylor Swift, relea…
Read Full Bio ↴
1989 is the fifth studio album by American singer-songwriter Taylor Swift, released on October 27, 2014, through Big Machine Records. After music critics questioned her status as a country musician following her pop and electronic-influenced fourth studio album Red, Swift was inspired by 1980s synth-pop to recalibrate her artistry from country to pop music. On 1989, titled after her birth year to signify her symbolic artistic rebirth, Swift enlisted Max Martin as co-executive producer.

The album's synth-pop sound is characterized by heavy synthesizers, programmed drums and processed backing vocals. The songs, expanding on Swift's songwriting practice taking inspiration from her personal life, express lighthearted perspectives towards failed relationships, departing from her previous hostile attitude. Swift and Big Machine promoted the album extensively through product endorsements, television, radio appearances and social media. They pulled 1989 from free streaming services such as Spotify, prompting an industry discourse on the impact of streaming on music sales.

After the album's release, Swift embarked on the 1989 World Tour, which was the highest-grossing tour of 2015. The album was supported by seven singles, including three US Billboard Hot 100 number ones: "Shake It Off", "Blank Space" and "Bad Blood". Critics generally praised 1989 for its emotion and melodies, but a few were concerned over the synth-pop production, as they felt it eroded Swift's authenticity as a songwriter due to pop music's capitalist nature—a criticism that has been retrospectively described as rockist. Various publications listed 1989 as one of the best albums of the 2010s decade, with Rolling Stone and Consequence ranking it amongst the best of all time.

At the 58th Grammy Awards in 2016, 1989 won Album of the Year and Best Pop Vocal Album, making Swift the first female solo artist to win Album of the Year twice. Retrospective commentaries regard 1989 as a key success in transforming Swift's image to that of a pop icon, promoting poptimism, but also highlighted how her artistic integrity and public image suffered from increasing media scrutiny.
Genre not found
Artist not found
Album not found
Search results not found
Song not found
All You Had to Do Was Stay
(Hey, hey, hey) (Hey, hey, hey) (Hey, hey, hey) (Hey, hey, h…
Bad Blood
'Cause baby now we got bad blood You know it used…
Blank Space
Nice to meet you, where you been? I could show you…
Clean
The drought was the very worst, ah ah When the flowers…
How You Get the Girl
(Oh oh oh) (Oh oh oh, oh oh, oh oh) (Oh oh) Stand…
I Know Places
I I I I, I I I I I I I…
I Wish You Would
It's 2 A.M. in your car Windows down, I pass my…
Out of the Woods
Looking at it now It all seems so simple We were lying…
Shake It Off
I stay out too late Got nothin' in my brain That's what…
Style
Midnight You come and pick me up, no headlights Long drive C…
Stylé
Midnight, you come and pick me up No headlights Long drive, …
This Love
Clear blue water High tide came and brought you in And I…
Welcome to New York
Walkin' through a crowd, the village is aglow Kaleidoscope o…
Wildest Dreams
He said, "Let's get out of this town Drive out of…