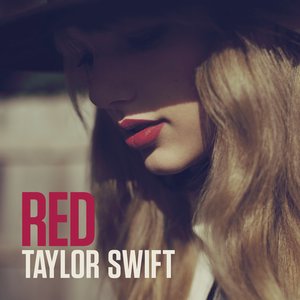 Red is the fourth studio album by American singer-songwriter Taylor Swift. It was released on October 22, 2012 through Big Machine Records, as the follow-up to her commercially successful 2010 album Speak Now. It was announced through Swift's live webchat on August 13, 2012, in which she revealed the album title, album cover, as well as answered fan questions. Four promotional singles were released in the month leading up to the album release, three of which debuted inside the top ten of the U.S. Billboard Hot 100. The album features collaborations with new producers and guest artists such as Gary
Read Full Bio
Red is the fourth studio album by American singer-songwriter Taylor Swift. It was released on October 22, 2012 through Big Machine Records, as the follow-up to her commercially successful 2010 album Speak Now. It was announced through Swift's live webchat on August 13, 2012, in which she revealed the album title, album cover, as well as answered fan questions. Four promotional singles were released in the month leading up to the album release, three of which debuted inside the top ten of the U.S. Billboard Hot 100. The album features collaborations with new producers and guest artists such as Gary Lightbody and Ed Sheeran, and sees Swift experimenting with new musical genres.

The album's lead single, "We Are Never Ever Getting Back Together" was a worldwide commercial success, topping the iTunes charts all over the world and sold 623,000 copies in the first week, becoming Swift's first ever Billboard Hot 100 chart-topper after vaulting from 72 to number one and stayed at top for three weeks. Even though she usually doesn't discuss who her songs are about, Swift told Broadway's Electric Barnyard that she would agree to disclose the inspiration for "We Are Never Ever Getting Back Together" for a six figure donation to charity. Following in the footsteps of one of her idol's, whom she mimics quite often, Carly Simon.

The second single, "Begin Again" was released in October 1. Red has also spawned three other promotional singles, all of them reached top 15 on the Billboard Hot 100 chart. Red has been mostly acclaimed by music critics, who praised Swift's versatility as a musician and enjoyed her experiments with new music genres. Red sold 1,208,000 copies in its first week in the U.S, debuting at number one on the Billboard 200 chart, and scored the highest number one debut in the US for the 2010s decade so far. Red is also Swift's first chart-topper in the U.K., and also topped the album charts in Australia, Canada, Ireland and New Zealand.
Genre not found
Artist not found
Album not found
Search results not found
Song not found
I'm walking fast through the traffic lights
Busy streets and busy lives
And all we know
Is touch and go
We are alone with our changing minds
We fall in love 'til it hurts or bleeds
Or fades in time
And I never
(Never)
Saw you coming
And I'll never
(Never)
Be the same
You come around and the armor falls
Pierce the room like a cannon ball
Now all we know
Is don't let go
We are alone, just you and me
Up in your room and our slates are clean
Just twin fire signs
Four blue eyes
So you were never a saint
And I loved in shades of wrong
We learn to live with the pain
Mosaic broken hearts
But this love is great and wild
And I never (oh-oh, oh-oh, ouh-ooh)
(Never)
Saw you coming (oh-oh, oh-oh, ouh-ooh)
(Oh-oh, oh-oh, ouh-ooh)
(Oh-oh, oh-oh, ouh-ooh)
And I'll never (oh-oh, oh-oh, ouh-ooh)
(Never)
Be the same
This is a state of grace
This is the worth while fight
Love is a ruthless game
Unless you play it good and right
These are the hands of fate
You're my Achilles heel
This is the golden age of something good
And right and real
And I never
(Never)
Saw you coming
And I'll never
Be the same
Yeah, oh-oh
And I never (oh-oh, oh-oh, ouh-ooh)
(Never)
Saw you coming (oh-oh, oh-oh, ouh-ooh)
(Oh-oh, oh-oh, ouh-ooh)
(Oh-oh, oh-oh, ouh-ooh)
And I'll never (oh-oh, oh-oh, ouh-ooh)
(So you were never a saint)
(And I loved in shades of wrong)
Be the same (we learn to live with the pain)
(Mosaic broken hearts)
(But this love is great and wild)
This is a state of grace
This is the worth while fight
Love is a ruthless game
Unless you play it good and right
Lyrics © Universal Music Publishing Group, Sony/ATV Music Publishing LLC
Written by: Taylor Alison Swift

Lyrics Licensed & Provided by LyricFind
To comment on specific lyrics,
highlight them