Como Me Pongo
Ska-P Lyrics
Cómo me pongo, sin que nadie se entere
cómo me pongo, sin que salga en la tele
cómo me pongo, siempre dando la brasa
cómo me pongo, hipocresía en casa
¡eh!, mírale, este personajillo
organiza movidas contra la drogadicción
mírale, un yonky reprimido
el que te dice que digas que no
CÃ?MO ME PONGO...
Ven, únete contra la hipocresía
de los malditos slogans que salen en televisión
di que no, el problema de la droga
son las rentas de su prohibición
CÃ?MO ME PONGO...
¡ah! a mí no me engañarás
¡ah! te siento mentir
¡ah! tu mandíbula es un volcán
Políticos, artistas, ingenieros de sonido,
Militares, periodistas, hasta el clero está metido
Saquemos algo en claro de esta mierda de canción
NO A LA PROHIBICIÃ?N
Lyrics © Universal Music Publishing Group
Written by: ALBERTO JAVIER AMADO HUETE, JOSE ANTONIO LOPEZ PANCORBO, JOSE MIGUEL REDIN REDIN, JULIO CESAR SANCHEZ SUAREZ, LUIS MIGUEL GARCIA PLANELLO, RICARDO DELGADO DE LA OBRA, ROBERTO GANAN OJEA

Lyrics Licensed & Provided by LyricFind
To comment on specific lyrics,
highlight them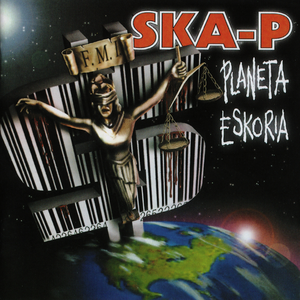 Ska-P is a Spanish ska punk group formed in Vallecas (a neighborhood of Madrid, Spain) in 1994. Most of their songs feature an infectious and energic vibe and feature lyrics about non-conformity, criticism of capitalism and racism, and their defense of equal justice, plus taking part in various multicultural, alternative and anti-globalization festivals. Their song "Cannabis", supporting and defending the legalization of said substance, launched them to certain popularity in Spain and parts of Mexico and South America.
Read Full Bio
Ska-P is a Spanish ska punk group formed in Vallecas (a neighborhood of Madrid, Spain) in 1994. Most of their songs feature an infectious and energic vibe and feature lyrics about non-conformity, criticism of capitalism and racism, and their defense of equal justice, plus taking part in various multicultural, alternative and anti-globalization festivals. Their song "Cannabis", supporting and defending the legalization of said substance, launched them to certain popularity in Spain and parts of Mexico and South America. They also have followers in the UK, The Netherlands, Belgium, Italy, Switzerland, France, Germany, Portugal, and other European countries.

After a wildly successful tour across South America in late 2005, the band decided, in their own words, to "stop for a while". Some of their members went on to form side band projects such as No Relax and The Locos. As time went by without further notices, many Ska-P fans feared the band had been gone for good. On late April 2008 and for the rejoice of their worldwide fans, they announced their return as a band on their official site.

Their new album, "Lágrimas y gozos", was released the 7th of October 2008 and its first single is called "Crimen sollicitationis". The band is going to perform various shows around South America and Europe in November and December.

Official website: http://www.ska-p.net
Genre not found
Artist not found
Album not found
Search results not found
Song not found