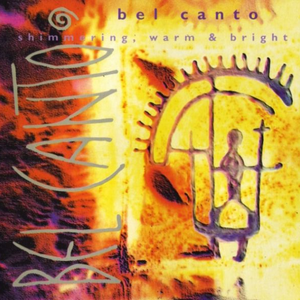 Shimmering, Warm and Bright
1) Bel Canto (italian for "beautiful song") is a Norwegian music duo fronted by Anneli Drecker. Signed originally to Belgian label Crammed, their style has evolved over time from a gothic ethereal sound to synth-based pop influenced by world music.
The Band was founded together with Geir Jenssen. He left after the second album in 1990 and pursued a solo career in ambient music as Biosphere.

During the years from 1985 to present (2006) Bel Canto have
Read Full Bio
1) Bel Canto (italian for "beautiful song") is a Norwegian music duo fronted by Anneli Drecker. Signed originally to Belgian label Crammed, their style has evolved over time from a gothic ethereal sound to synth-based pop influenced by world music.
The Band was founded together with Geir Jenssen. He left after the second album in 1990 and pursued a solo career in ambient music as Biosphere.

During the years from 1985 to present (2006) Bel Canto have been taking breaks as Anneli Drecker has pursued a solo career and done concerts with other bands and artists (including touring with A-Ha), as well as playing in films and theatre plays. Nils Johansen, on the other hand, has composed music for film and television as well as working and performing with his other band, Vajas.

21 Years after the band was founded they are still active. In the fall of 2006 they continued to do concerts, primarily in Norway.

In 2007 Bel Canto will continue to work together, both by writing new material and by doing more gigs. At the same time both Anneli Drecker and Nils Johansen will also work on other projects. Latest update by 2022 is that Bel Canto are currently working on their next album.

2) Bel Canto Choir from Lithuania.
Genre not found
Artist not found
Album not found
Search results not found
Song not found
There is a chapel in the woods
Where from the farthest-seeing senses rule
There is a scroll inside a casket...
Clear blue eyes have worn this outfit
Yes I knew it was no moonshine, it is real
I feel much better
Now I know this spiral shaft
Can possess the brightness of the light
Oh, I sayeth, thou art mine true companion
And I wish
Thou wilt enter my kingdom
Oh, mesmerising unicorn
When if danger it will glow
A glimmer can foresee all threats to come
Gone are disbeliefs and doubts
It would be nice, so nice...
Oh, I sayeth, thou art mine true companion
And I hope, thou wilt enter my kingdom
Oh yes, I wish, I really wish
Lyrics © O/B/O APRA AMCOS

Lyrics Licensed & Provided by LyricFind
To comment on specific lyrics,
highlight them