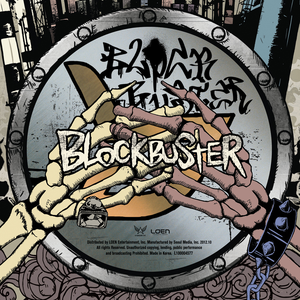 ▪ Tracklist:

01. 11:30
02. Interlude
03. 닐리리맘보
04. Mental Breaker
05. 장난없다 (No Joke)
06. Movie's Over
07. 넌 어디에
08. 로맨틱하게
09. 했어 안했어
10. Halo
11. 닐리리맘보 (Inst.)
12. Mental Breaker (Inst.)

▪ Released: October 17, 2012.
Genre not found
Artist not found
Album not found
Search results not found
Song not found
0.47916666666666669
Block B Lyrics
We have lyrics for these tracks by Block B:



11:30 잠에서 깨보니 날이 좋아 시원하게 물 한 모금 때마침 걸려오는 전화 만나자는 너의…
Action Stan up it\'s your boys Block B.B.B LOL let me see see…
Be the light 어두 컴컴해 보이지 않아 손 뻗었지만 바람만 부딪혀와 왠지 모르게 낯선 이곳 초라함에…
Burn Out BURN(BURN)OUT(OUT) buseojin mam, BURN(BURN)OUT(OUT)gaseumeun…
Dime girl 사람이 그렇게 매력 있음 못써요 정도껏 하세요 예쁜 건 넌데 왜 내가 피곤한 거죠 You're…
Halo man you just chilln this track woops ye ye ye ye ha ha…
HER Jesus 무슨 말이 필요해 모두 널 작품이라고 불러 Just a little bit…
Hold Me Now 이제 눈을 감아요 손을 내밀어 봐요 그댈위해 준비한 내마음을 받아요 화려하진 않아도…
Jackpot 저 오빠들 이상해 야호 터졌다 ja ja ja jackpot The 7th album,…
LOL [Zico] Sound so good! Track-i kkeutnamyeon naolmal Odioro gy…
Mental Breaker 넌 밤새 통화로 구박을 해 어디 있었냐고 잔소리에 방전된 Phone Phone Phone 친구들이 뒤에서…
Movie's Over Yeiye heouheouheou Yeiye heouheouheou Yeiye heouheouheou …
Nice Day [Taeil] All ma party people ready~ [Zico] Yah Zeahco, somun…
Nillili Mambo [Zico] Ha Ha Yeah BBC follow me Bounce like this eh…
No Joke [P.O] Hapumi naonda. bogi minmanghada. useumi naonya? U gott…
Shall We Dance 둠칫 둠칫 몸 쓸 준비 서울 전체를 무대 삼아 누비지 Nod your…
Synchronization 100% [Zico] Georeumgeori maltu gata Amuttaena hapum (dotne) Da ga…
Toy 내 감정 따위 뭐가 중요해 싫증 날 때까지 갖고 놀면 돼 널…
U Hoo Hoo 가만 있다가도 미소가 oh oh (just smile again) 보는것만으로 가슴이 oh oh (Im…
Unordinary Girl 사람이 그렇게 매력 있음 못써요 정도껏 하세요 예쁜 건 넌데 왜 내가 피곤한 거죠 You're…
Very Good Ah hahaha Guess who's back (who's back) A yo pop, we did…
Very Good - Rough Version Show time 환호와 기대 속에 첫 등장 No doubt 남들과 차별화되는 순간 나갈 문은…
Wanna B Wow Wow Wow Bonuce Bonuce Bonuce Round Round Round Sound So…
넌 어디에 (Verse 1) Tto geudaereul ullineyo Geudaeui yeppeun nuneseo…
닐리리맘보 Haha yeah BBC follow me Bounce like this eh eh bounce…
로맨틱하게 아주 로맨틱하게 말 할거야 너도 나 같다면 잘 될 거야 두 눈을…
장난없다 Omanized: (P.O) Hapumi naonda. Bogi minmanghada. Useumi …
했어 안했어 제발 내 말 듣자 나만 본다 했잖아 쪼잔한 놈 같잖아 oh girl 자꾸…

The lyrics can frequently be found in the comments below, by filtering for lyric videos or browsing the comments in the different videos below.