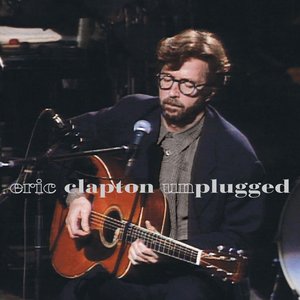 Unplugged is an album by Eric Clapton released in 1992. It was recorded live in …
Read Full Bio ↴
Unplugged is an album by Eric Clapton released in 1992. It was recorded live in England for the MTV Unplugged series. The album includes an acoustic version of the hit single "Tears in Heaven" and a heavily reworked acoustic version of "Layla".

Clapton earned three Grammy Awards for the album: Album of the Year, Best Rock Male Vocal, and Best Rock Song; he earned another three for the record and song "Tears in Heaven".

Clapton performed the show in front of a small audience on January 16, 1992 at Bray Film Studios in Windsor, England.

In 2000 Q magazine placed Unplugged at number 71 in its list of the 100 Greatest British Albums.

Clapton played a Martin 000-42 guitar for much of this performance.
Genre not found
Artist not found
Album not found
Search results not found
Song not found
Alberta
Alberta, Alberta Where you been so long? Alberta, Alberta Wh…
Before You Accuse Me
Before you accuse me, take a look at yourself Before you…
Hey Hey
Hey hey. Hey hey, baby, hey. Hey hey. Hey hey, baby,…
Layla
What'll you do when you get lonely And nobody's waiting by…
Lonely Stranger
I must be invisible No one knows me I have crawled down…
Malted Milk
I keep drinking malted milk, Trying to drive my blues away. …
Nobody Knows You When You're Down & Out
Once I lived the life of a millionaire Spendin' all my…
Old Love
I can feel your body When I'm lying in bed There's too…
Rollin' & Tumblin'
Well, I woke up this morning, my biscuit rolling on. Well…
Running on Faith
[Chorus:] Lately I've been running on faith What else can a …
San Francisco Bay Blues
I got the blues from my baby left me by…
Signe
by Eric Clapton (instrumental)…
Tears in Heaven
Would you know my name If I saw you in heaven? Would…
Walkin' Blues
Woke up this morning, feel 'round for my shoes, You know…