The Passing of Théoden
Howard Shore Lyrics
Of dreccunga, of dimnesse tó dæges úpgange.
Hé singende rád in sunnan, sweord bregdende.
Hé hyht eft onaelede and in hyhte geendode
Ofer edunga, ofer ege, ofer orlæge úp áhafen
Of lyre, of lífe, tó langum wuldre.
[translation: Out of doubt, out of dark, to the day's rising
He rode singing in the sun, sword unsheathing.
Hope he rekindled, and in hope ended;
Over death, over dread, over doom lifted, Out of loss, out of life, unto long glory.]
Contributed by Lucas V. Suggest a correction in the comments below.
To comment on specific lyrics,
highlight them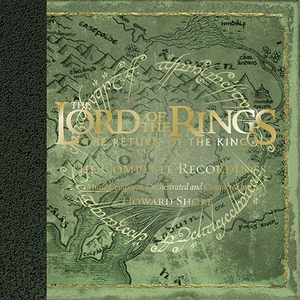 The Army of the Dead pours over the walls of Minas Tirith, overwhelming the simple-minded Orcs with fear and destroying them. But no victorious music emerges. Cor anglais sorrows over minor-moded strings. King Théoden lies dying upon the Pelennor. Éowyn crawls to his side and he looks upon her smile one last time. Chorus somberly intones "Death of a King" in Old English, but this is not the music of Men. This is music of the next world, tones one step closer to the music of Valinor.
Read Full Bio
The Army of the Dead pours over the walls of Minas Tirith, overwhelming the simple-minded Orcs with fear and destroying them. But no victorious music emerges. Cor anglais sorrows over minor-moded strings. King Théoden lies dying upon the Pelennor. Éowyn crawls to his side and he looks upon her smile one last time. Chorus somberly intones "Death of a King" in Old English, but this is not the music of Men. This is music of the next world, tones one step closer to the music of Valinor. The World of Men fades away. With a final remembrance, French horn recites the Rohan Fanfare. King Théoden, son of Thengel, passes.

TEXTS
DEATH OF A KING
Text by J.R.R. Tolkien
Old English Translation by David Salo
FIRST HEARD: DISC THREE | TRACK TEN
Of dreccunga, of dimnesse tó dæges úpgange | Out of doubt, out of dark, to the days rising
Hé singende rád in sunnan, sweord bregdende | He rode singing in the sun, sword unsheathing.
Hé hyht eft onaelede and in hyhte geendode | Hope he rekindled, and in hope ended;
Ofer endunga, ofer ege, ofer orlæge úp áhafen | Over death, over dread, over doom lifted
Of lyre, of lífe, tó langum wuldre. | Out of loss, out of life, unto long glory.

(c) The Annotated Score (The Music of The Lord of the Rings Films)
Genre not found
Artist not found
Album not found
Search results not found
Song not found