Jump to: Overall Meaning | Line by Line Meaning
Yénillor morne
tulinte I quettar
tercano nuruva
Hlasta Qyetes
Hfirimain
The Ringspell...
Translation:
The Seer Speaks...
Out of the Black Years
come the worlds
the Herald of Death
Listen -- it speaks to
those who were not born to die
The Ringspell...
Overall Meaning
The lyrics in Howard Shore's song The Prophecy are rich in symbolism and mystery, making it open to different interpretations. The first line, "Yénillor morne" could refer to the bleakness and darkness of the times, which is further emphasized in the following line, "tulinte I quettar" which means "out of the Black Years". The third line, "tercano nuruva" seems to be a reference to the coming of a world or worlds, which is described as the Herald of Death.
Then the lyrics shift to a statement, a call to action. "Hlasta Qyetes" means "listen to the Seer" and "Hfirimain" could be interpreted as "those who weren't destined to die". The implication is that while death may come for us all, there are some who are meant for more than just dying. The Ringspell mentioned at the end adds to the mystery of the entire song, leaving the listener to wonder what exactly it is and what role it plays in the narrative.
Overall, The Prophecy's lyrics seem to be an epic, prophetic statement on the cyclical nature of history and life. It's about the coming of a new world and the survival of a select few who weren't meant to die, all while shrouded in the mystique of the Ringspell. It's a call to listen, to pay attention, to look beyond the veil and see what's coming.

Line by Line Meaning
Yénillor morne
From the Black Years arise the worlds.
tulinte I quettar
Bearer of death.
tercano nuruva
Herald of death.
Hlasta Qyetes
Listen to the Seer.
Hfirimain
It speaks to those who were not born to die.
The Ringspell...
The Seer speaks of death and destruction that is to come.
Lyrics © Universal Music Publishing Group
Written by: HOWARD SHORE, PHILIPPA BOYENS

Lyrics Licensed & Provided by LyricFind
To comment on or correct specific content,
highlight it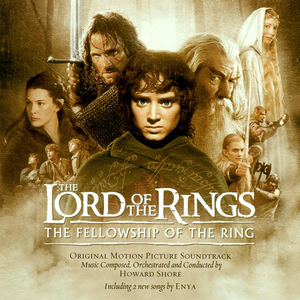 Music by Howard Shore. Lyrics by Philippa Boyens. Translation by David Salo.

Text
The Seer Speaks...

Yéllinor morne | Out of the Black Years
tulinte I quettar | come the words
tercáno nuruva | the Hearld of Death

Hlasta! Qyetes | Listen—it speaks to
Hfirimain: | those who were not born to die

The Ringspell...
(c)2001 New Line Cinema (ASCAP).
(c) info from the booklet

***
More info at A Magpie's Nest

***
"The Prophecy" is a song composed by Howard Shore. It appears in The Lord of the Rings: The Fellowship of the Ring.
Genre not found
Artist not found
Album not found
Search results not found
Song not found