Shieldmaiden of Rohan
Howard Shore Lyrics
ANGMAR
text by J.R.R. TOLKIEN and PHILIPPA BOYENS, translation by DAVID SALO
( SINDARIN )
Dollost - dîr cuoil
Ú-ar nin degi
(( You fool - no living man
Can kill me! ))
Le achelithar aen
Athar fuin ban
Rhaw lín mannen
Ind tharn lín
Lanc na chen be-thobas
(( You will be born away
Beyond all darkness;
Your flesh devoured,
Your shriveled mind
Left naked to the lidless eye. ))
Anant i vaethor ú-ritha
Hên Rohan
Fim sui anghathel
Bain a goeol.
(( But still the soldier did not move.
Child of Rohan
Slender as a steel-blade
Fair yet terrible. ))
Na vedui istant
Na vedui cenn
Dîr ú-naun hon...
Vess e tiriant.
(( Too late he knew,
Too late saw,
This was no man...
He looked upon a woman ))
Contributed by Kennedy D. Suggest a correction in the comments below.
To comment on specific lyrics,
highlight them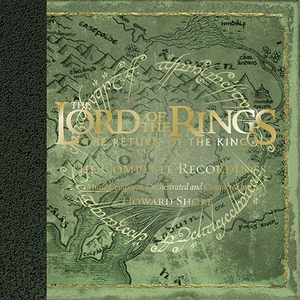 Bravely, Éowyn steps into his path, impeding his ingress. The fell beast lunges at her, but she decapitates it with two strokes of her blade. The Witch-king dismounts his dying steed, and draws himself up before this foolhardy solider who dares to come between a Nazgûl and its prey. Mixed chords enter on the secundal harmonies of the Ringwraith theme, now set to "Angmar." He hurls his flail at Éowyn and a new variation of The Threat of Mordor appears below the chorus, now chromatically bent to match the exotic harmonies of Mordor.
Read Full Bio
Bravely, Éowyn steps into his path, impeding his ingress. The fell beast lunges at her, but she decapitates it with two strokes of her blade. The Witch-king dismounts his dying steed, and draws himself up before this foolhardy solider who dares to come between a Nazgûl and its prey. Mixed chords enter on the secundal harmonies of the Ringwraith theme, now set to "Angmar." He hurls his flail at Éowyn and a new variation of The Threat of Mordor appears below the chorus, now chromatically bent to match the exotic harmonies of Mordor. He strikes Éowyn, crushing her arm and she falls back on Snowmane.

Elsewhere, upon the outskirts of the city, the Corsairs' black-sailed ships arrive before a crowd of Orcs. But no sailors are visible. A bass drum rolls expectantly. Three figures disembark: Aragorn, Legolas and Gimli. A driving trumpet reading of Fellowship greets them, and the trio marches towards the Orcs, wildly outmatched. But as they charge, an eerie spectral mist materializes behind them. Aragorn leads the Army of the Dead! Shore produces a roiling marche macabre comprised of bi-tonal figures and clusters. The long-dead warriors wash over the Orcs, flooding into Minas Tirith and the Pelennor.

But this band will not meet Éowyn in time. The Descending Third motif at his back, the Witch-king takes Éowyn by the throat, brass chords again swelling with close harmonies. "Fool, no man can kill me." But Merry catches the Witch-king in the back of the leg, sending his small sword through the Nazgûl's leg. The Witch-king falls to his knees, and Merry collapses. Éowyn tears her helmet from her head, seizing her chance. "I am no man!" The French horns proclaim the Éowyn and Théoden theme in a gleaming Lydian mode. She juts her sword into the Witch-king's head and he crumples and dies.

At the head of his ghostly army, Aragorn takes to the Pelennor. A minor reading of the Gondor theme shows the advantage once again rests with Men, but the battle is not yet over. With a peal of string harmonics Gothmog pursues Éowyn, both of them crawling, subjected to their wounds. Aragorn reaches Gothmog just in time and kills him. A snippet of the same fanfare heard when Pippin dislodged Faramir from the pyre sounds—a theme for small victories at Minas Tirith.

Legolas sees a Mûmak loaded with Haradrim soldiers approaching. He rushes the beast and the dichotomous weighty/spirited, deep/high music of the Mûmakil returns. But this time the advantage belongs to the Elf. The music dives steeply into crackling fanfares reminiscent of the great tradition of cinematic spectacle. Shore recalls, "If I was ever going to write in a Max Steiner vein, this was it!" With a clip of Fellowship, Legolas slices the howdah's supports, sending the Mûmak's riders crashing to the grassy fields below. The heroes' theme broadens, and Legolas fells the beast with three precisely placed arrows.

IN THE MAKING:
The theatrical version of this scene was shorter, but featured a version of Gondor (in Ascension) that was not used in the Extended Edition.

TEXTS
ANGMAR
Text by J.R.R. Tolkien and Philippa Boyens
Sindarin Translation by David Salo
FIRST HEARD: DISC THREE | TRACK NINE
Dollost - dîr cuiol | You fool - no living man
ú-ar nin degi | Dan kill me!

Le echelithar aen | You will be borne away
Athar fuin ban | Beyond all darkness;
Rhaw lín mannen | Your flesh devoured,
Ind tharn lín | Your shriveled mind
Lanc na chen be-thobas | Left naked to the lidless eye.

Anant i vaethor ú-ritha | But still the soldier did not move.
Hên Rohan | Child of Rohan,
Fim sui anghathel | Slender as a steel-blade,
Bain a goeol. | Fair yet terrible.

Na vedui istant | Too late he knew,
Na vedui cenn | Too late saw,
Dîr ú-naun hon... | This was no man.
Vess e tiriant. | He looked upon a woman.

(c) The Annotated Score (The Music of The Lord of the Rings Films)
Genre not found
Artist not found
Album not found
Search results not found
Song not found