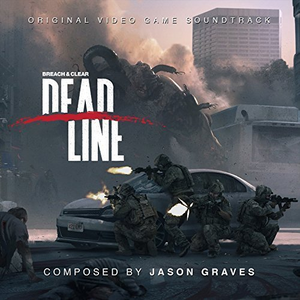 Breach & Clear: Deadline (Original Video Game Soundtrack)
Jason Graves is an award-winning American television, film and video game music composer. He is more recently known for his musical score for Dead Space, a survival horror-action video game.

Graves is a British Academy Award-winning composer who has brought his passion for music to video game franchises such as Dead Space (EA), Star Trek (Bethesda) and Silent Hunter (Ubisoft). His Hollywood expertise allows him to move effortlessly between film, television and games
Read Full Bio
Jason Graves is an award-winning American television, film and video game music composer. He is more recently known for his musical score for Dead Space, a survival horror-action video game.

Graves is a British Academy Award-winning composer who has brought his passion for music to video game franchises such as Dead Space (EA), Star Trek (Bethesda) and Silent Hunter (Ubisoft). His Hollywood expertise allows him to move effortlessly between film, television and games, and he is renowned worldwide for his cinematic, immersive and award-winning music.

Jason was solely responsible for creating an innovative, unique soundtrack for Dead Space, which has become Electronic Art's best-selling original title and called "the scariest game ever made." Jason's ground-breaking score has been hailed by critics as a "truly original soundtrack" and "the best score of the year." It was recognized with a myriad of world-wide nominations and won two BAFTA awards - one for Original Score and one for Use of Audio. For the latter, the Academy stated, "It's the music soundtrack that boasts horror and tension."

Jason's diverse musical background as a classically-trained composer, jazz drummer, keyboardist, guitarist and world percussionist allow him to expertly compose in many different genres of music. As a result, his game credits alone include more than eighty titles, ranging from electronic and rock to full symphonic scores. He performs world percussion and guitar on many of his own scores and has conducted and recorded his live orchestral scores at Air Studios London, Capitol Records, Paramount Pictures, Skywalker Sound, and with the Seattle and Salt Lake City Philharmonic orchestras.

Jason also composes for film and television, including his recent score for the thriller Fatal Flaw. His music has been licensed for television shows such as American Idol and The Amazing Race.

Recent projects include two hybrid electronic/orchestral game scores - one for the popular City of Heroes franchise, entitled Going Rogue (N.C. Soft) and a second for Section 8 (Southpeak Interactive), a first-person shooter set in the distant future. Jason also provided a live orchestral score for Dead Space Extraction, Electronic Art's prequel to the popular and critically-acclaimed horror hit Dead Space.

In addition to the two BAFTAs, Jason's music has been honored with three Academy of Interactive Arts & Sciences (AIAS) Award nominations, winning "Outstanding Achievement in Audio" for Dead Space. He has received seventeen G.A.N.G. nominations and four wins, including "Audio of the Year" for Dead Space, "Best Original Theme" nominations for Star Trek: Legacy and Blazing Angels 2 and "Music of the Year" nominations for Dead Space and King Arthur.

Current projects include three sequels for different unannounced flagship game franchises and the feature film thriller Nevermore. Jason Graves is represented by The Gorfaine/Schwartz Agency, Inc.
Genre not found
Artist not found
Album not found
Search results not found
Song not found
We have lyrics for 'Deadline' by these artists:



Accessory Your thoughts are simple You scream it out Your expression…
Arsonary My patience has run thin Running on a path headed Straight…
ASD Schließ die Augen bevor ich diesen Track mach Muss ich I…
Ballyhoo! i know youre feeling like the noose is tight this…
Blue Öyster Cult You said you'd be here at a quarter to five I…
Breakdown of Sanity I won't regret the way I've lived my life you can't…
Chef'Special I was thinking about those time that we make friemds…
d.a.s.h I'm waiting for a miracle But do I still believe it? I'm…
David and the PS3 Games He's got a meeting at six-thirty, so he won't have…
Elysium Into The Aeons Of Darkness We Shall Go The Air Is Too…
Foreboding Ether Time, granting us another crisis Still persevering! Our ci…
Hins Cheung 作词∶黄伟文 执起笔想写再见 算算有哪个想见 至发觉世上还有太多可恋 这首歌应该抱怨 却教我重头充了电 假使我要 更…
Robert Palmer When I get aroused, I can make a headline When you…
S7N You keep searching Through your brain But all the answers Ha…
Sodom Euthanasia or amnesty Takes you off the ground Embrace you…
Testament Take a look away Think about the things you say The day…
The Gaia Corporation Today is gonna be the day That they're gonna throw it…
Time Tells All In the spotlight Deadline Sends a tingle through your spin…
Tree I've got to get things done Before my permanent vacation I'm…
Venom I lust a princess - A crystal queen Virginal whiteness is…
Vic Chesnutt Deadline, it ain't moving Deadline, stiff as a board Deadl…
Warcursed They all think of death As a deadline A deadly fate As a…
Weh It was just another stupid little fight, I'm wakened by…
Yö Ei oltu nдhty pitkддn aikaan, kauas kotoa muutettiin Usein a…
Young Fathers Waiting to be rich, rip it to pieces What do we…



We have lyrics for these tracks by Jason Graves:



Fly Me To the Aegis Seven Moon Fly me to the moon And let me play among the…

The lyrics can frequently be found in the comments below, by filtering for lyric videos or browsing the comments in the different videos below.