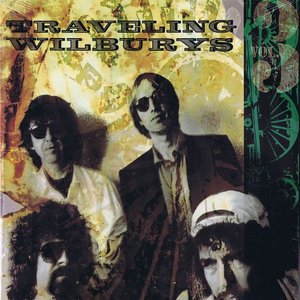 Though it was their second release, the album was mischievously titled Vol. 3 by George Harrison. According to Jeff Lynne, "That was George's idea. He said, 'Let's confuse the buggers.'" As the dynamics within the band had shifted with Roy Orbison's death, the four remaining members all adopted new Wilbury pseudonyms: Spike (George Harrison), Clayton (Jeff Lynne), Muddy (Tom Petty) and Boo (Bob Dylan). With Harrison and Lynne producing again, the sessions were undertaken in the spring of 1990, with an additional track, a cover of "Nobody's Child" being set aside for a charity compilation album. Released in October, Traveling
Read Full Bio
Though it was their second release, the album was mischievously titled Vol. 3 by George Harrison. According to Jeff Lynne, "That was George's idea. He said, 'Let's confuse the buggers.'"

As the dynamics within the band had shifted with Roy Orbison's death, the four remaining members all adopted new Wilbury pseudonyms: Spike (George Harrison), Clayton (Jeff Lynne), Muddy (Tom Petty) and Boo (Bob Dylan). With Harrison and Lynne producing again, the sessions were undertaken in the spring of 1990, with an additional track, a cover of "Nobody's Child" being set aside for a charity compilation album.

Released in October, Traveling Wilburys Vol. 3 was less positively received than its predecessor, yet still saw a fair measure of success, with both "She's My Baby" (with Gary Moore) (No. 2 album rock) and "Inside Out" (No. 16 album rock) becoming radio hits as the album reached No. 14 in the UK and No. 11 in the U.S. where it went platinum.

Although there has since been speculation about further Wilbury releases, Harrison's 2001 death is considered to have ended any possible future projects with Harrison having been the unofficial leader of the group and with his estate owning the rights to both albums.

Traveling Wilburys Vol. 3 was dedicated in memory of "Lefty Wilbury" (Roy Orbison).

After George Harrison's distribution deal with Warner Bros. expired in 1995, ownership of the Dark Horse Records catalog as well as the two Traveling Wilburys albums reverted to Harrison and the albums went out of print. On June 12, 2007, Volume One and Vol. 3 were re-issued by Rhino Records as The Traveling Wilburys Collection, packaged together with bonus tracks and a DVD. The box set debuted at #1 on the UK Albums Chart and at No. 9 on The Billboard 200.
Genre not found
Artist not found
Album not found
Search results not found
Song not found
She's got a pudding in the oven
And it's gonna be good
She better not leave me
And go out to Hollywood
She's got the best pudding in the neighborhood
She's my baby
She can drive a truck
She can drive a train (my baby, my, my baby)
She can even drive an aeroplane
She's so good to look at in the rain
She's my baby
She's comin' down the sidewalk
She's stumblin' through the door
She's coming home from places
She's never been before
She sits down on the sofa
She pours herself a drink
Says, "Honey, honey, honey ain't no time to think"
My baby
My baby
My baby
She's got a body for business
Got a head for sin
She knocks me over
Like a bowling pin
She came home last night and said
"Honey, honey, honey it's hard to get ahead"
My baby
My baby
She can build a boat
She can make it float (my baby, m-my-my baby)
She can play my guitar
Note by Note
She likes to stick her tongue right down my throat
She's my baby
My baby
My baby (she's my baby)
My baby (she's my, my baby)
My baby
My
Lyrics © Wixen Music Publishing, Sony/ATV Music Publishing LLC, Peermusic Publishing
Written by: Bob Dylan, Jeff Lynn, Tom Petty, George Harrison

Lyrics Licensed & Provided by LyricFind
To comment on specific lyrics,
highlight them