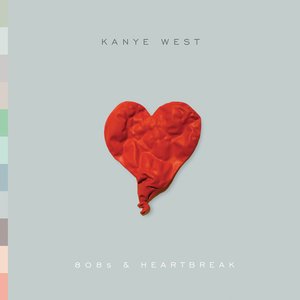 808s & Heartbreak is the fourth studio album by American hip hop artist Kanye West, released November 24, 2008 on Roc-A-Fella Records. It was recorded after the death of his mother and subsequent dissolution of his engagement to a long-time girlfriend in 2008, and marked a major sonic departure for West. Taking influences from 80s new wave, synthpop, and art pop, West produced the album with heavy use from the Roland TR-808 drum machine and Auto-Tune. Lil' Wayne, Young Jeezy, Kid Cudi, and Mr. Hudson appear as featured artists on the album. Due to the lack of profanity, 808s &
Read Full Bio
808s & Heartbreak is the fourth studio album by American hip hop artist Kanye West, released November 24, 2008 on Roc-A-Fella Records. It was recorded after the death of his mother and subsequent dissolution of his engagement to a long-time girlfriend in 2008, and marked a major sonic departure for West. Taking influences from 80s new wave, synthpop, and art pop, West produced the album with heavy use from the Roland TR-808 drum machine and Auto-Tune. Lil' Wayne, Young Jeezy, Kid Cudi, and Mr. Hudson appear as featured artists on the album. Due to the lack of profanity, 808s & Heartbreak is West's first album without the Parental Advisory logo.

Commercially, the album debuted at number one on the Billboard 200 chart. The album has (as of 2022) sold over 3,700,000 copies, and has been certified 3x platinum by the RIAA. Lead single Love Lockdown peaked at #3 on the Billboard Hot 100, and second single Heartless peaked at #2 on the Billboard Hot 100 in early 2009.

Released to a polarizing reaction from the public and critics alike, 808s & Heartbreak has since gone to become hailed as one of the greatest and most influential albums of the all time, with the album being attributed to the breakout popularity of more 'emotionally vulnerable' hip-hop artists such as Kid Cudi and Drake, and pioneering the 'emo rap' and 'alternative R&B' subgenres in particular. Rolling Stone magazine selected 808s among its '40 Most Groundbreaking Albums of All Time' list in 2014, and eventually ranked the album at 244 on its 2020 list of the 500 Greatest Albums of All Time.
Genre not found
Artist not found
Album not found
Search results not found
Song not found
Why would she make calls out the blue
Now I'm awake, sleep (Less in June
Hey, hey, hey, hey
Don't say you will, unless you will
Hey, hey, hey, hey
Don't say you will, then play you will, I pray you will
Hey, hey, hey, hey
Don't say you will, you do
Hey, hey, hey, hey
Don't say you will, one day you will, I pray you will
When I grab your neck, I touch your soul
Take off your cool, then lose control
Hey, hey, hey, hey
Don't say you will, you will, you will
Hey, hey, hey, hey
Don't say you will, if you will, I pray you will
I wish this song would really come true
(I wish this song would really come true
I wish this song, this song could play and could come true
I wish this song, "Say You Will," would come true, I wish this song)
I admit I still fantasize about you, about you
(I admit I, don't say, I admit I, don't say I admit I)
Hey, hey, hey, hey (I admit I, I admit I)
Don't say you will, you will, you will
(Say you will, don't say I, don't say I)
Hey, hey, hey, hey
Please say you will, for real, I pray you will
Lyrics © Ultra Tunes, Universal Music Publishing Group, Sony/ATV Music Publishing LLC
Written by: Dexter Raymond Jr. Mills, Kanye Omari West, Jeffrey Bhasker, Malik Yusef El Shaba Jones, Jay W. Jenkins, Benjamin Mcildowie

Lyrics Licensed & Provided by LyricFind
To comment on specific lyrics,
highlight them