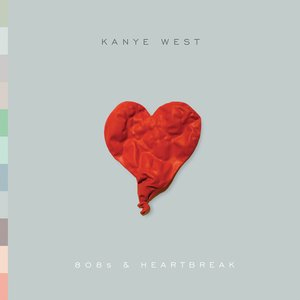 808s & Heartbreak is the fourth studio album by American hip hop artist Kanye West, released November 24, 2008 on Roc-A-Fella Records. It was recorded after the death of his mother and breakup of a relationship and has a very different sound compared to his previous albums, one which would lead to one of the most influential albums of the 2000s. The album was originally scheduled for a December 16 release, but was pushed forward to increase sales during the holiday season. The album debuted at number one on the Billboard 200 chart. 808s & Heartbreak is West's first album
Read Full Bio
808s & Heartbreak is the fourth studio album by American hip hop artist Kanye West, released November 24, 2008 on Roc-A-Fella Records. It was recorded after the death of his mother and breakup of a relationship and has a very different sound compared to his previous albums, one which would lead to one of the most influential albums of the 2000s.

The album was originally scheduled for a December 16 release, but was pushed forward to increase sales during the holiday season. The album debuted at number one on the Billboard 200 chart. 808s & Heartbreak is West's first album without the Parental Advisory logo. The album has sold over 1,023,927 copies, making it West's fourth album to reach platinum status.

Love Lockdown peaked @ #3 on the Billboard Top 100 & Heartless has peaked at #2 on the Billboard Top 100.

Lil' Wayne, Young Jeezy, Kid Cudi, Mr. Hudson, & Tony Williams appear on the album.

On December 4, 2008, "Street Lights" appeared at the completion of an episode of Grey's Anatomy.
Genre not found
Artist not found
Album not found
Search results not found
Song not found
Why would she make calls out the blue
Now I'm awake, sleep (Less in June
Hey, hey, hey, hey
Don't say you will, unless you will
Hey, hey, hey, hey
Don't say you will, then play you will, I pray you will
Hey, hey, hey, hey
Don't say you will, you do
Hey, hey, hey, hey
Don't say you will, one day you will, I pray you will
When I grab your neck, I touch your soul
Take off your cool, then lose control
Hey, hey, hey, hey
Don't say you will, you will, you will
Hey, hey, hey, hey
Don't say you will, if you will, I pray you will
I wish this song would really come true
(I wish this song would really come true
I wish this song, this song could play and could come true
I wish this song, "Say You Will," would come true, I wish this song)
I admit I still fantasize about you, about you
(I admit I, don't say, I admit I, don't say I admit I)
Hey, hey, hey, hey (I admit I, I admit I)
Don't say you will, you will, you will
(Say you will, don't say I, don't say I)
Hey, hey, hey, hey
Please say you will, for real, I pray you will
Lyrics © Ultra Tunes, Universal Music Publishing Group, Sony/ATV Music Publishing LLC
Written by: Dexter Raymond Jr. Mills, Kanye Omari West, Jeffrey Bhasker, Malik Yusef El Shaba Jones, Jay W. Jenkins, Benjamin Mcildowie

Lyrics Licensed & Provided by LyricFind
To comment on specific lyrics,
highlight them