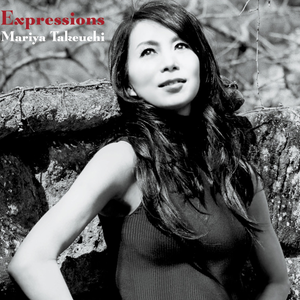 Mariya Takeuchi (竹内 まりや) (born March 20, 1955 in Shimane, Japan) is a Japanese singer and songwriter.
Takeuchi started her own career with a single "Modotte-Oide, Watashi no Jikan" in 1978. From the late 1970s to the early '80s, she has recorded 5 albums and several singles including top-ten hit "Fushigi na Peach Pie". Those materials have featured dozens of Japanese and North American distinguished songwriters, instrumentalists, and producers
Read Full Bio
Mariya Takeuchi (竹内 まりや) (born March 20, 1955 in Shimane, Japan) is a Japanese singer and songwriter.
Takeuchi started her own career with a single "Modotte-Oide, Watashi no Jikan" in 1978. From the late 1970s to the early '80s, she has recorded 5 albums and several singles including top-ten hit "Fushigi na Peach Pie". Those materials have featured dozens of Japanese and North American distinguished songwriters, instrumentalists, and producers, such as David Foster, Jim Keltner, Jay Graydon, Steve Lukather, Jeff Porcaro, David Hungate, Kazuhiko Kato, Kunihiko Kase, Shigeru Suzuki, Takashi Matsumoto, and her future long-term partner Tatsuro Yamashita.
"Heart to Heart", one of her songs co-written by Roger Nichols and released in 1980, was recorded by the Carpenters two years later, and became the last recording for the late Karen Carpenter.

In 1981, Takeuchi married to a singer-songwriter Tatsuro Yamashita, and stopped her career temporarily owing to the pregnancy. After her comeback to the Japanese music industry in 1984, she has accomplished huge commercial success more than when she was single. From that year to the present, she has recorded 6 successful studio albums that mainly consisted of her self-penned songs, and all of them have reached #1 on the Japanese Oricon chart.

As a singer-songwriter, she has produced 8 top-ten hit singles on the Oricon, including "Single Again", "Kokuhaku", "Junai Rhapsody", "Konya wa Hearty Party" and her only #1 hit "Camouflage".
Genre not found
Artist not found
Album not found
Search results not found
Song not found
プラスティック・ラヴ
竹内まりや Lyrics
We have lyrics for 'プラスティック・ラヴ' by these artists:



Mariya Takeuchi 突然のキスや 熱いまなざしで 恋のプログラムを 狂わせないでね 出逢いと別れ 上手に打ち込んで 時間がくれば終わる do…
大西結花 突然のキスや 熱い眼差しで 恋のプログラムを狂わせないでね 出会いと別れ 上手に打ち込んで 時間が来れば 終わる Do…



We have lyrics for these tracks by 竹内まりや:



A cup of tea 今宵もあなたと二人 疲れたからだ休めるひととき お茶さえあれば幸せ ささやかな一日 ダイヤも毛皮も欲しくないから 笑顔見…
Broken Heart I hate to sleep alone in this big brass bed Since…
DREAM SEEKER わけもなく泣きたい 夜が訪れたら すべてを最初から やり直すチャンス 胸に抱え込んだ 強がりと焦りで 本当に好きなこと …
Forever Friends どんなに長く ごぶさたをしてても 電話ひとつかけるだけ 学生に戻れる 懐かしい場所で待ち合わせをしたら 思いきりはしゃぎ…
Let It Be Me I bless the day I found you I want to stay…
Morning Glory 東に向いているブラインド めがけて射し込んだ 光に瞳を開いたら 昨夜の暗闇を 濡らしてた雨音 かすかに想い出して 表はき…
Never Cry Butterfly 君の空が 泣きだしても Oh, never cry butterfly 負けちゃダメだよ 精一杯に 生きてるから 傷つい…
One Night Stand 幾つもの街 旅するあなたには 思い出にさえならないただの one night stand 夜明けのデジタルが 冷たい時…
PLASTIC LOVE 突然のキスや熱いまなざしで 恋のプログラムを狂わせないでね 出逢いと別れ上手に打ち込んで 時間がくれば終わる don't…
September M.A.R.I.Y.A., Mariya's hit parade 辛子色のシャツ 追いながら 飛び乗った電車のドア …
WINTER LOVERS 一年振りに あなたが帰る 指折り数えた その日が来る きれいになった 私を見せたくて 選んだセーター お気に入りの Na…
うれしくてさみしい日 バージンロード進んでゆく 晴れ姿が涙で見えない あなたと共に過ごした 思い出を今かみしめてる 喜びととまどい感じて 小さ…
けんかをやめて けんかをやめて 二人を止めて 私のために争わないで もうこれ以上 ちがうタイプの人を好きになってしまう 揺れる乙女心 …
すてきなホリデイ 近づいている 冬の足音 耳を澄ませば 聞こえる鈴の音 寝ぼけた頭に 響く目覚ましを 手さぐりで止めたあと 雪の気配 始…
とまどい 派手なケンカ できるくらい 何でも話せたふたり だけどなぜか近頃は 目に見えない 距離がある 幼なじみの あなたがとても…
もう一度 Ooh, ooh, ah ah baby Later let's try again 夜毎 つのる想いに 胸を熱くした…
アンフィシアターの夜 今夜もお客は満ぱい そろそろ足を踏み鳴らし 開演のベル 待ち焦がれてる バンドの準備は all right われる拍手…
カムフラージュ Woo, woo 友達以上の気持ち 胸に閉じ込めてきたけれど 心がもう嘘をつけなくて こんなに切ない ふとした仕草に…
クリスマスは一緒に あなたの街に 初雪舞い (It's cold!) 今かと その帰りを待つの 会えない日が こんなに続いたら 写真だけじゃ…
グッドバイ・サマーブリーズ あなたは忘れたでしょうか 避暑地のめぐりあいを テニスコートや あの湖 古びたボートを揺らして 木立を風がわたる あの夏…
シンクロニシティ 例えば夢の中で笑ってた あなたからの電話で目覚めて お互いに同じ夢 見てたなんてこと 不思議だけど 二人にはよくあるの …
スロー・ラヴ どうしてそんな風に 急いで生きてるの 僕のアドヴァイスも 上の空さ 他人と比べながら 幸せ量るから 足りてるのはいつも …
ソウルメイトを探して 会えばいつもお互いに 悩みごと聞き合う仲だった でも男だとか女とか 越えてるふたりだった 恋がうまくゆかなくて 心ふさぐ…
ドリーム・オブ・ユー 〜レモンライムの青い風〜 (Dream a little dream of you) 瞳とじれば あなたが見える 陽だまりの匂いと 優しいまなざ…
ボーイ・ハント Where the boys are Someone waits for me A smiling face, a…
マンハッタン・キス Don't disturb 閉ざされたドアの中だけが 私になれる場所 ここであなたが見せる優しさに 偽りはないけど どう…
ラスト・デイト ふいに曇った 夏の終わりの空が あなたの移り気な心 無言で伝えてる まさかとのぞく 私の不安な目を まっすぐ返せないなん…
リンダ Who's that girl in love? Who's that girl in love? Hey Linda…
ロンリー・ウーマン 最初はほんのちょっと 遊びのつもりだった 華やかな孤独から 逃げ出したくて 肩の力が抜けるような 気軽さと優しさに いつ…
不思議なピーチパイ 思いがけない good timing 現われた人は good looking 巻きこまれそな 今度こそは それならそれで…
五線紙 人気ないホールの 折りたたみ 椅子たち リハーサル前の暗い空気 靴音さえも途切れた休止符 あの頃のぼくらは 美しく愚か…
人生の扉 春がまた来るたび ひとつ年を重ね 目に映る景色も 少しずつ変わるよ 陽気にはしゃいでた 幼い日は遠く 気がつけば五十路を…
元気を出して 涙など見せない 強気なあなたを そんなに悲しませた人は 誰なの? 終りを告げた恋に すがるのはやめにして ふりだしから…
哀しい恋人 今夜限りでもう二人は 逢えなくなるとわかっていた 好きになるほど大切なもの 失くす予感におびえたから こうして密かな闇に…
天使のため息 まぶたを閉じれば 浮かぶふたりの歴史を 今でもこんなに 近くに感じてる 春の日のくちづけと 夏の夜のときめきと けんかし…
幸せのものさし Count what you have now, don't count what you don't have Cou…
恋の嵐 Dance, dance, dance, never stop Dance, dance, dance, never s…
戻っておいで・私の時間 Ya ya ya ya ya ya ya ya ya ya Ya…
明日の私 私を育てたこの町に 新しい風が吹いたら 思い出ごと箱に詰めて 都へと旅立つの うしろ髪引かれる気持ちで みんなにさよな…
本気でオンリーユー Now let's get married No need to wait and waste our…
毎日がスペシャル 毎日がスペシャル 毎日がスペシャル Everyday is a special day 雨で始まるウィークデイはユーウ…
涙のワンサイデッド・ラヴ 初めてあなたを見たのは 10月の雨の降る土曜 バスを待つ私の前に さり気なく傘をさしかけた 少し困った顔でしばらく 見つ…
真夜中のナイチンゲール あなたの瞳に映る 哀しみのわけを教えて どんなに近くにいても 届かない心の裏側 My love 私は闇夜に My lo…
純愛ラプソディ 明るいだけが 取り柄でも 私だって命がけの 恋に憧れることがある ドラマティックな出来事は 起こるはずもないくらいに …
終楽章 あどけのない その笑顔に 惑わされて ためらわれて 幾度となく 言いそびれた 本当のこと 今話すわ 少し寒い…
色・ホワイトブレンド White spring 春の陽ざしに White lips 輝き出せば White blend 恋が芽ばえそう リボ…
象牙海岸 海岸線沿いに 夏雲がなだれると 砂の蜃気楼に 立ちすくむ影ひとつ 人影もない入江 そこが二人の秘密の場所で 象牙海岸と名…
駅 見覚えのある レインコート 黄昏の駅で 胸が震えた はやい足どり まぎれもなく 昔愛してた あの人なのね 懐かしさの一…

The lyrics can frequently be found in the comments below or by filtering for lyric videos.